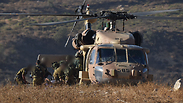 The grenade explosion that killed two soldiers in the Golan Heights two months ago was set off because one of the soldiers was playing with it, an IDF investigation into the incident found.

The investigation also found that the grenade in question belonged to the previous squad that was using the jeep. The IDF's criminal investigation division's (CID) probe is still ongoing.

IDF Chief of Staff Gadi Eisenkot condemned the incident and ordered that all IDF soldiers be briefed on the report's findings within two weeks.

Soldiers injured in grenade tragedy are evacuated (צילום: אביהו שפירא, אלעד גרשגורן)

An official reprimand has been given to the head of the 601st IDF combat engineers battalion, Lt. Col. Ziv Nemani. The company commander is barred from being in a command position for three years.

Staff Sgt. Husam Tafash, 24, from Beit Jann, and Shlomo Rindenow, 20, a lone soldier from New Jersey who was living in Sde Yoav, died from shrapnel wounds sustained from the grenade blast next to an outpost at the foot of the Hermon mountain. Three additional soldiers were injured in the incident – one moderately and two lightly. Reservists were amongst the soldiers injured.


Sgt. Rindenow made aliyah from the US two years prior to his death, and moved to the town of Netzer Hazani. He leaves behind his parents and nine brothers and sisters – five of whom also served as IDF lone soldiers in combat roles.

Staff Sgt. Tafash was in the military as a non-commissioned officer, and served as a driver for patrol vehicles. "He finished his mandatory IDF service and decided that he wanted a career in the military," his father Abdullah Tafash said following the tragedy.

The 601st Battalion, where the disaster occurred, also experienced an accident in which a D9 tractor collided with an APC during operations in Har Dov, also in the Golan Heights. Seven soldiers were injured in the accident, two severely.

A senior IDF officer claimed that the two cases were not connected, pointing out that they occurred in two different companies in a well-regarded battalion. The same officer claims that the rebukes given to the officers are no light punishment.