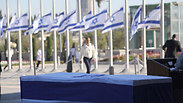 Peres's casket at the Knesset
Photo: Gil Yohanan
Israel's ninth president Shimon Peres, who passed away overnight Tuesday, lies in state outside the Knesset in Jerusalem, as hundreds of Israelis are waiting to pass by his casket and pay their respects to the last of Israel's founding fathers.
Prime Minister Benjamin Netanyahu, President Reuven Rivlin and Speaker of the Knesset Yuli Edelstein paid their respects to the 93-year-old statesman and laid wreaths by the casket. They were followed by a procession of MKs.
The casket will remain outside the Knesset until 9pm Thursday, while Peres's funeral is planned for Friday morning.
Dozens of leaders, dignitaries and long-time friends are expected to attend Peres's funeral, including US President Barack Obama, Seceretary of State John Kerry, former President Bill Clinton, Canadin Prime Minister Justin Trudeau, former British prime minister Tony Blair, British Foreign Minister Boris Johnson, Prince Charles, French President François Hollande, German President Joachim Gauck, King Felipe VI of Spain and the presidents ot Ukraine, Poland, Belgium, Austria, Slovenia, Croatia, Latvia and Mexico.
It is yet unknown, however, if any dignitaries from Arab countries will be attending Peres's funeral.
Some of the dignitaries arrived in Israel on Thursday, including former US President Bill Clinton.
Peres will be buried at the Great Leaders of the Nation Plot at Mt. Herzl. His plot is located between those of former prime ministers Yitzhak Rabin and Yitzhak Shamir. Peres will be buried alone, as his late wife Sonya requested to be buried in Moshav Ben Shemen, while Shimon Peres made it clear his wish to buried at Mt. Herzl.
צילום: אבי מועלם עריכה: אמיר סולומון
All major traffic routes leading to the Knesset—namely, Kaplan St., Zusman St. and Route 16—will remain closed until the procession leaves the Knesset courtyard to Mt. Herzl Friday morning.
Several parking lots have been made available for free for the public. They are the First Train Station parking lot, the Teddy parking lot, the Ammunition Hill parking lot and the Ein Yael parking lot. A shuttle system will take those visiting from the lots to the Knesset to pay their respects.
On Friday at 8:30am, Peres's coffin will begin its journey to Mt. Herzl, where a funeral of some 5,000 attendees will take place in front of Theodore Herzl's tomb.
Several dignitaries will deliver their eulogies during the wide-scale ceremony, including President Obama, following which the procession will move to the Great Leaders of the Nation's Plot, where a smaller group of roughly 500 people—including world heads of state—will take part in it.
In accordance with Jewish custom, Peres's shiva (mourning period) will begin two hours before sunset on Friday, and will resume after the Shabbat passes and then on Sunday, until two hours before the begining of Rosh Hashanah. The shiva will take place at the Peres Center for Peace, 132 Kedem St., Jaffa.
In addition to Obama, Peres will be honored by his three children—Tsvia Walden, Yoni and Chemi Peres—and by President Reuven Rivlin and Speaker of the Knesset Yuli Edelstein, all of whom will be speaking at his funeral.
The Peres family asked singer David D'Or to sing the Jewish prayer Avinu Malkeinu during the funeral.