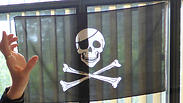 Pirate Party office in parliament
Photo: Reuters
Reykjavík — A party that hangs a skull-and-crossbones flag at its HQ, and promises to clean up corruption, grant asylum to Edward Snowden and accept the bitcoin virtual currency, could be on course to form the next Icelandic government.

The Pirate Party has found a formula that has eluded many anti-establishment groups across Europe. It has tempered polarising policies like looser copyright enforcement rules and drug decriminalisation with pledges of economic stability that have won confidence among voters.

This has allowed it to ride a wave of public anger at perceived corruption among the political elite—the biggest election issue in a country where a 2008 banking collapse hit thousands of savers and government figures have been mired in an offshore tax furore following the Panama Papers leaks.


If the Pirates emerge as the biggest party in an Oct. 29 parliamentary election—as opinion polls suggest—they will deliver another defeat to Europe's mainstream politicians.

The rise to power of a party which started out less than four years ago as a protest movement against global copyright laws, and whose election campaign is partly crowdfunded, would create shockwaves felt far beyond this island of 336,000 people on the edge of the Arctic Circle.

"Across Europe ... increasingly many people think that the system that is supposed to look after them is not doing it anymore," Pirate leader Birgitta Jónsdóttir, who is also a published poet, told Reuters.

"We know that we are new to this and it is important that we are extra careful and extra critical on ourselves to not take too much on. I really don't think that we are going to make a lot of ripples in the economy in the first term."

"That is one of the things where you have to trust in the experts," the 49-year-old added, referring to the ongoing lifting of capital control instituted by the central after the bank crisis.
'No dramatic things'
The Pirates are benefiting from Iceland's fragmented political landscape where coalition government is the norm. Opinion polls show support for the party running at over 20 percent, slightly ahead of the Independence Party, which shares power with the Progressive Party.

The left-leaning party is part of a global anti-establishment typified by Britain's vote to leave the European Union. But their platform is far removed from the anti-immigration policies of the UK Independence Party, France's National Front and Germany's AfD, or the anti-austerity of Greece's Syriza.

Iceland's gross income per capita was almost $50,000 in 2015, according to the World Bank, well above the $34,435 EU average—though still 20 percent below a 2007 peak. Immigration levels are low compared with many other European countries.

Helped by a tourism boom, economic growth this year is expected to hit 4.3 percent and the latest data shows a seasonally adjusted unemployment rate of 3.1 percent.

There appears little appetite among the public or any party leader for economic radicalism. The Pirate Party has not set out detailed plans, but has made clear that it would not deviate far from current policies in the next government term.

"We will not be doing any dramatic things in this regard, we will carry on with the lifting of capital control. We are not going to make any dramatic changes in the financial sector," said Jónsdóttir.

There is little sign of business or investor panic.

"Regarding the economic stability, looking at the long term, they can't do any worse than what has been done so far," said Jón Sigurðsson, chief executive of prosthetics maker Össur, one of Iceland's biggest companies, referring to the banking crisis

"I think changes in politics is always good. The only thing I'm worried about is if you make changes too fast and reckless."

The krona currency is up around 12 percent against the dollar this year, seemingly unaffected by the rise of the Pirates. Moody's upgraded Iceland's government bond rating this month and also said it did not see a threat to prudent management of public finances should the Pirate Party be part of the next government.
'We need change'
The party stands by longstanding policies such as granting citizenship to former US spy agency contractor Edward Snowden and legalising trade and collection of bitcoins. It says it does not have a stance on Iceland's application for EU membership but says it would call a referendum on whether to continue with it.

But such issues have been eclipsed in the public consciousness by the party's anti-corruption campaign, which it has increasingly focused on its election drive.

Icelanders' faith in the political and financial elite was shaken after the financial crisis revealed that banks' debt had been allowed to surge to levels ten time the gross national product. Thousands of Icelanders fell into default.

Simmering anger over the crisis was further inflamed this year when several senior government politicians were named in the Panama Papers as having links to offshore tax havens - though there was no suggestion they did anything illegal.

The biggest protests in the country's history ultimately led to the resignation of Prime Minister Sigmundur Davíð Gunnlaugsson of the centre-right Progressive Party and the early elections coming up now.

Sæþór Ásgeirsson, who runs green power technology startup IceWind, said the political class had not woken up to the depth of public anger at perceived corruption.

"The old guys don't understand what's going on. I think the Pirate Party understands much better," said Asgeirsson, dressed in work pants and a sweatshirt at his office in Reykjavik.

Those sentiments were echoed by student Valgerður Bjarnadóttir, who is in her 40s. "I'm fed up with all of the other politicians," she said at a café in the city centre.

But she said she still had doubts about the ability of inexperienced Pirate Party lawmakers to make a difference on corruption: "They just might not be tough enough."
Pirate poet
Pirate Party support has spiked since the 2013 election when the party got 5 percent and three seats, peaking at around 40 percent after the publication of the Panama Papers in April.

As with its economic policies, the Pirate Party has not provided much detail on how it will clean up corruption, though it says it will allow fisheries quotas to be dictated by the market rather than the government, to prevent any cronyism.

The mainstream parties have pointed to their own success in rescuing the economy, and latched on to the Pirates' lack of policy detail.

"The Pirate Party are getting a lot of people not for what they are, but more for what they aren't, because they aren't established," said 25-year-old Aslaug Sigurbjörnsdóttir, who is set to become the Independence Party's youngest female lawmaker.

If the Pirate Party—Piratar in Icelandic—become the biggest party, it would have the job of building a governing coalition. But leader Jónsdóttir, who published her first book of verse when she was 22, would not become the next prime minister.

"Instead of accepting that powerful position, I would like to take that power inside parliament and offer to be the speaker of the house," she said