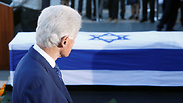 Bill Clinton at Peres's casket
Photo: Reuters
Heads of state and dignitaries from all over the world will be attending the funeral of Israel's ninth president Shimon Peres on Friday. They are coming from places as diverse as Togo and Mexico, Austria and China.

Bill Clinton visits Peres's casket

Leading the US delegation will be US President Barack Obama, and will see Secretary of State John Kerry and Vice President Joe Biden, amongst others. Former President Bill Clinton arrived earlier Thursday morning, and has already visited Peres as he lies in state at the Knesset. The governors of New York and New Jersey confirmed their attendance before the tragedy in Hoboken, and it remains to be seen if they will still be attending. There will also be 19 Senators and Members of the US House of Representatives attending the funeral.

The UK will be sending an especially large delegation to the funeral, which will include: the Prince of Wales, Foreign Secretary Boris Johnson, President of the Board of Jewish Deputies Ephraim Arkush and former Prime Ministers Tony Blair, David Cameron, and Gordon Brown.

Meanwhile, the Egyptians are sending Foreign Minister Sameh Shoukry, the Jordanians are sending Deputy Prime Minister for Economic Affairs Jawad Al-Anani. The Palestinians are sending a four member delegation, including Palestinian President Mahmoud Abbas, PLO Executive Committee Secretary-General and chief Palestinian negotiator Saeb Erekat, Chief of General Intelligence Maj. Gen. Majid Faraj, and Civil Affairs Minister Hussein al-Sheikh.

The former and current heads of state and government who have confirmed that they are attending Peres's funeral follow:
Australian Governor-General Peter Cosgrove
Austrian Doris Doris Bures and former President Heinz Fischer
Bulgarian President Rosen Plevneliev
Canadian Prime Minister Justin Trudeau
Croatian President Kolinda Grabar-Kitarović
Cypriot President Nikos Anastasiadis
Dutch Prime Minister Mark Rutte
Estonian Prime Minister Taavi Roivas
Finish Prime Minister Juha Sipilä
French President François Hollande and former President Nicolas Sarkozy
German President Joachim Gauck
Greek former Prime Minister George Papandreou
Hungarian Prime Minister Viktor Orbán
Italian Prime Minister Matteo Renzi
Ivorian President Alassane Dramanne Ouattara
Latvian President Raimonds Vējonis
Lithuanian President Dalia Grybauskaite
Luxembourgish Grand Duke Henri
Macedonian Prime Minister Emil Dimtriev
Mexican President Enrique Peña Nieto
Monagesque Prime Minister Serge Telle
Polish President Andrzej Duda
Romanian President Klaus Iohannis
Serbian President Tomislav Nikolić
Slovakian Prime Minister Robert Fico
Slovenian President Borut Pahor
Spanish King Felipe VI
Swedish Prime Minister Stefan Löfven
Swiss Federal President Johann Schneider-Ammann
Togolese President Faure Essozimna Gnassingbe
Ukrainian President Petro Poroshenko
The countries of Portugal, Brazil, Turkey, China, Singapore, India, Australia, and Papua New Guinea have sent high ranking officials to represent their leaders at Shimon Peres's funeral.

In addition, NATO Secretary General Jens Stolenberg and European Council President Donald Tusk are to attend.