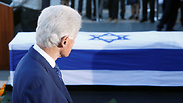 Bill Clinton paying his respects
Photo: Reuters
Shimon Peres is laid to rest
Israel's last founding father, the internationally respected former president, prime minister, and the Jewish state's most respected elder statesman is laid to rest on Friday. Dignitaries from around the globe, including presidents, prime ministers and royalty, have come to bid farewell to the eternal optimist who always looked to a better future.
Israel's former president, three-time prime minister, vice prime minister, three-time minister of foreign affairs, two-time minister of defense, minister of finance, minister of transportation, minister for the development of the Negev, Galilee and regional economy, Nobel Peace Prize laureate, US Presidential Medal of Freedom recipient, US Congressional Gold Medalist and honorary Knight Grand Cross of the Most Distinguished Order of St Michael and St George, Shimon Peres, is being laid to rest on Friday after dying early on Wednesday morning.

Shimon Peres, Israel's elder statesman par excellence, died at the age of 93 after

suffering a stroke

a fortnight previously. Thursday, his body

lied in state

before the Knesset where hundreds of thousands filed past to pay their last respects, including former US President Bill Clinton.

Peres's casket left the Knesset for Mount Herzl at 8:30am.

World leaders and other dignitaries and foreign delegations will arrive at the funeral at 9am.




The funeral will begin at 9:30am at the Mount Herzl Plaza, where 5,000 participants will gather for a farewell ceremony that will include eulogies by Israeli President Reuven Rivlin, Prime Minister Benjamin Netanyahu, Knesset Speaker Yuli Edelstein, former US President Bill Clinton, author Amos Oz, Peres's three children—Dr. Tsvia Walden, Yoni Peres and Chemi Peres, and finally US President Barack Obama.

In his will, Peres asked that singer David D'Or sings the prayer "Avinu Malkeinu" at his funeral.

The Kadish prayer will be said after the eulogies, followed by the arrival of an honoray guard that would carry the casket to the cemetery.




At 11:15am, 500 of the participants, including Peres's family and world leaders, will make their way to the Great Leaders of the Nation's Plot, where, at approximately 11:45am the casket will be lowered into the ground, following which prayers will be said and wreaths will be laid. Though the burial attendance will be limited, large screens will display the ceremony for the public who come to mourn at Mount Herzl.




Over 30 former and present heads of state and government join ambassadors, foreign mayors, governors and ministers and most of Israel's political echelon to bid farewell in what may be the largest gathering of international dignitaries in Israel in the state's history.

In total, some 90 delegations from 70 countries are to be in attendance. The American delegation is being led by no other than President Barak Obama, another Nobel Peace Prize laureate, who is to speak at the funeral.