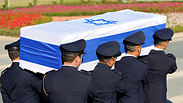 Peres's casket being carried to Mount Herzl
Photo: Reuters
Israel's ninth president Shimon Peres was laid to rest on Friday in a state funeral attended by thousands of guests, including leaders and dignitaries from all over the world.
The funeral began at 9:30am at the Mount Herzl Plaza, where 5,000 participants gathered for a farewell ceremony that included eulogies by Israeli President Reuven Rivlin, Prime Minister Benjamin Netanyahu, Knesset Speaker Yuli Edelstein, former US President Bill Clinton, author Amos Oz, Peres's three children—Dr. Tsvia Walden, Yoni Peres and Chemi Peres, and finally US President Barack Obama.
Shimon Peres buried (צילום: אלי סגל, ניצן דרור, אלי מנדלבאום, עפר מאיר)
Singer David D'Or sang the prayer "Avinu Malkeinu," honoring a request Peres made in his will.
Presidents Clinton and Obama bid Israel's president farewell
US President Barack Obama opened his speech by addressing Israel's leaders and the Peres family, saying "It is a honor for me to be in Jerusalem to say farewell to my friend Shimon Peres."
He also paid tribute to Palestinian President Mahmoud Abbas for attending the funeral, saying his presence was "a gesture and a reminder of the unfinished business of peace."
Obama said that that Peres showed that justice and hope are at the heart of the Zionist idea: "a free life in a homeland regained, a secure life in a nation that can defend itself by itself, a full life... This was Shimon Peres's life. This is the State of Israel. This is the story of the Jewish people over the last century. It was made possible by a founding generation that counts Shimon as one of its own."
The president reminded listeners of the tumultuous childhood suffered by Peres at the hands of anti-Semitism. Despite the inhumane experiences, Obama pointed out that when the family finally had the opportunity to emmigrate to then Palestine, Peres's "beloved grandfather's message was simple. He said to him 'Shimon, stay a Jew.'"
"He was still a teenager when his grandfather was burned alive by the Nazis. The synagogue in which he prayed became an inferno...From an early age Shimon bore witness to the cruelty that human beings could inflict on each other, the ways that one group of people could dehumanize another," Obama said.
And yet, Obama continued, "That understanding would never harden his heart. It would never extinguish his faith. Instead it broadened his moral imagination and gave him the capacity to see all people as deserving of dignity and respect. It helped him see not just the world as it is but the world as it should be."
President Barack Obama eulogizes Shimon Peres (צילום: אלי סגל, ניצן דרור, אלי מנדלבאום, עפר מאיר)
After acknowledging his contribution to building Israel's defense insustry and listing his daring diplomatic and military achivements, Obama then paid homage to Peres's visions for the future. "He wanted to make life better for people not just here but all around the world. His contribution to this nation were so funfamental, so pervasive that perhaps sometimes they can be overlooked," he said.
"For a younger generation Shimon was probably remembered more for a peace process that never reached its end point," he continued, drawing attention to critics on the left and "the more numerous critics on the right" who accused him of gross naivety.
Yet Peres never failed to brush off his critics, Obama said. "His pursuit of peace was never naive... He understood this war-torn region, where too often Arab youth are taught to hate Israel from an early age. He understood just how hard peace would be.
"I don't believe he was naive," Obama emphatically stated. "He understood through hard-earned experiences that true security comes through making of peace with neigbors... 'The Jewish people weren't born to rule another people,' he would say. From the very first day were were against slaves and masters."
Turning away from the Middle East, Obama highlighted Peres's altruism for those suffering around the world. "Under the hardships of the diaspora, he found room in his heart for others who suffered. He came to hate prejudice with the passion of one of knows how it feels to be its target.
"Even in the face of terrorist attack, even after repeated dissapointments at the negitation table, he insisted that as human beings Palestinians must be seen as equale...Because of his sense of justice, his analysis of Israel's security, his understanding of Israel's meaning, he believed that the Zionist dream would best be protected when Palestinians too had a state of their rights."
The president lamented the fact that Peres's dreams were ultimately unfulfilled while simultaneously celebrating his inexhaustible reserves of hope. "He never saw his dream of peace fulfilled. The region is going through chaotic a time...Yet he did not stop believing, he did not stop dreaming, and he did not stop working," he said.
Obama also confessed that, being the tenth US president to sit with Shimon Peres, he also "fell prey to his charms. He would tell me stories about the past but more often about hopes for the future. In many ways he reminded me of some other giants of the 20th century that I have been able to meet like Nelson Mandela and her majesty Queen Elizabeth."
"Shimon could be true to his convictions even if they cut against the grain of current opinion," Obama continued.
Reaching the peroration of his eulogy, the president said that Shimon Peres personified the very essence of Israeli and Jewish history.
"Israel is the story of a people who wondered for so long in the wilderness and never gave up, who suffered the boot of oppression and the shutting of the gas chambers and yet never gave up on a belief in goodness. This was the story of a man was counted on and then counted out again and again and never lost hope," said Obama before saying that the work ahead now lies in the hands of the future generations to which Peres and his own generation gave birth.
"May god bless his memory and may god bless this country and this world that he loved so dearly," he concluded. Bidding his final farewell, the president said, "Shimon Toda raba, chaver yakar," thank you, my dear friend.
Former US President Bill Clinton began his eulogy by describing his disbelief that Israel had said goodbye to one of its founding fathers.
He praised the activities to which Peres had devoted his life in the pursuit of public service. "In one way or the other, in or out of government, he was a public servant. I was honored to share almost 25 of those years with him," he said.
He went on to say, "I am honored the family asked me to tell you what he meant to someone who is not a citizen of this country I love so much but who was neverthelss blessed and inspired and I think in many ways is representative of millions more he touched though he never met."
The former American president described Peres as "a genius" who "wanted to the best for all children, yes the Israeli children but also the children of his neighbors and the larger world."
Recalling an interview of Shimon Peres by Charlie Rose, Clinton expressed his admiration for an answer he gave when asked what he wanted his legacy to be. "He said 'I am more concerned about tomorrow than yesterday.'"
Former US Bill Clinton at Shimon Peres's funeral (צילום: אלי סגל, ניצן דרור, אלי מנדלבאום, עפר מאיר)
Clinton extolled Peres's innate propensity for optimism and his boundless ability to dream in a better and more peaceful future. "His critics often claimed he was a naive, overly optimistic dreamer. They were only wrong about the naive part," he said. "He knew exactly what he was doing in being overly optimistic. He knew exactly what he was doing with his dreams. He never gave up on anybody."
Clinton further went on to say that Peres "lived 93 years in a state of constant wonder over the unbelievable potential of all the rest of us to rise above our wounds, our resentments, our fears to make the most of today and claim the promise of tomorrow."
Also recalling a celebration of Peres's 80th birthday, during which Palestinian and Israeli children performed together in a choir, Clinton said "Shimon actually could imagine all the people singing together. He imagined all the things the rest of us could do. He started off life as Israel's brightest student, became its best teacher and ended up its biggest dreamer.... He lived 93 years in a state of constant wonder... His heart was bigger than his brain."
Concluding his speech, Clinton said "I will always remember Shimon's luminous smile and that he always said - 'imagine.'
Israeli leaders remember Peres
Prime Minister Benjamin Netanyahu began his eulogy by turning in English to the many world leaders and foreign dignitaries who attended the funeral.
"I want to thank you all for coming today, and all the many leaders who came from around the world to say goodbye to Shimon. This is proof of his optimism, of his wish for peace and his love of Israel," Netanyahu said.
He described Peres as "one of the forefathers of the state, one of the greatest leaders who established our great nation. A leader of world stature," before reverting back to Hebrew.
The prime minister praised Peres's life. "He was an active partner in the revival of the Jewish people and grabbed a Sword of David to defend it. Shimon acted to secure our defensive strength for generations and for this he should be thanked by generations," he said. "In addition, he did all he could, in every moment of his life, to achieve peace with our neighbors."
Despite the fact they were political rivals, Netanyahu said he and Peres had become close friends over the years.
He recounted his first meeting with Peres, 40 years ago, after his brother, Yoni Netanyahu, was killed in the Entebbe Operation.
"At the funeral, (Peres) delivered a moving eulogy that I will never forget for the rest of my life," he said. "That moment, a fierce and special bond was created between us that was never broken. Even though Shimon and I disagreed on many things, these disagreements did not overshadow the many warm informative meetings we had."
Netanyahu also recalled a late-night meeting with Peres in which they argued about what should come first: peace or security.
"Shimon claimed with passion: 'Bibi, peace is the true security. If there is be peace, there'll be security.' While I claimed: 'In the Middle East, security is a necessary condition for achieving peace and sustaining it.'"
After arguing this for hours, they stopped exhausted. "I saw in his eyes, and I think he saw in mine, the decisiveness that comes from deep internal conviction and from devotion to the goal: Ensuring the future of the State of Israel," he said.
Netanyahu then added that with time, he reached the conclusion they were both right. "In the turbulent Middle East, where only the strong survive, peace won't be achieved unless it is supported by the constant assurance of our strength. But the purpose is not the strength, it is merely the means. The purpose is existence and coexistence, progress, prosperity and peace—for us, the people of this region."
Peres, too, Netanyahu said, reached the conclusion that "being right was not the exclusive domain of a certain political camp… the ideological gaps between the two camps on many issues have grown smaller. The members of both camps are not partners in political movements and in the leadership of the nation—something that was, in the past, unimaginable."
President Reuven Rivlin remembered Peres as "a man of vision and a man of deeds," describing him as one "with the rare ability to conceive what seemed to be the inconceivable, and see it to fruition."
"Your eyes saw far ahead, while your feet covered great distances on the landscape of Jewish and Zionist history," Rivlin said. "You always walked onward and upward, as a skilled mountaineer who secures his hook before ascending ever higher to the peak. This is how you lived your life."
He described Peres's determination and persistence, noting that "You succeeded in moving even the most stubborn of politicians, and to melt away even the hardest of hearts of our opponents."
Rivlin explained that "Even when we did not agree with you we wanted to believe that perhaps you were right. Believe me, it was not easy to refuse your optimism, and at times your innocence."
Speaking to Peres "as one President to another," as Peres himself used to say when calling his successor to offer "strength and good advice," Rivlin recounted their shared path.
"Like you, I was also born into the Zionist Movement in those decisive years between vision and fulfillment," he said. "I was fortunate to look up to you as a partner in the building of the State of Israel from its very foundations. For both of us, the State of Israel could never be taken for granted. However, with much thanks to you Shimon, for our sons and daughters, for our friends—and yes for our opponents—the State of Israel is an indisputable fact."
Elaborating, Rivlin said that Peres "strived until (his) final breath to reach the pinnacle of the Zionist dream: an independent, sovereign state, existing in peace with our neighbors. Yet (he) also knew that true peace could only be achieved from a position of strength, and (he was) sure to secure the path to this goal."
The tenth president noted that Peres was "the only one in the history of the State of Israel to serve in the three most senior positions in government: Foreign Minister, Defense Minister, and Finance Minister" as well as "the only one to have served as Prime Minister and as President.
"It is no exaggeration to say that more than you were blessed to be President of this great nation, this nation was blessed to have you as its President. In all these roles you were our head, but even more so, my dear friend, you were our heart; a heart that loved the people, the land, and the State. A heart which loved each and every person, a heart which cared for them."
Speaking of what made Peres tick, Rivlin described a "stubborn faith in mankind and the good of people—in the victory of progress over ignorance, in the victory of hope over fear," saying it was Peres's "eternal fountain of youth," and adding that "thanks to (this) you were the eternal fountain of youth for all of us. The man of whom we thought time could never stop."
He touched upon Peres's belief in the future. "With all your love for history and tremendous knowledge of history, you despised wallowing in the past, or being entrenched in a sense of self justice at the cost of the possibilities and opportunities that tomorrow brings. 'The future is more important than the past,' you said. 'What happened yesterday does not interest me, only tomorrow does,' you would say."
Rivlin also sought Peres's forgiveness. "It was permitted to disagree with you. Your opponents had a duty to express their opinion. However, there were years in which red lines were crossed between ideological disputes and words and deeds which had no place. You always acted according to what you believed with all you heart and what was best for the people, whom you served."
Rivlin praised his predecessor's work as president. "You taught many around the world to love the State of Israel, and you taught us to love ourselves, not to speak ill, and see the good and the beautiful in everything," he said.
"This is a sad day, Shimon," Rivlin professed. "Your death is a great personal and national loss, as it is also the end of an era, the end of the era of giants whose lives' stories are the stories of the Zionist movement and the State of Israel."
But the loss is not just that of the State of Israel and the Jewish people, Rivlin noted. "When we see world leaders - our friends from near and far - who have come here to bid you their final respects, we understand that not only here but across the world you will be missed. And all of us already miss you."
"Today you are gathered to your forefathers in the land which you loved so, but your dreams remain, and your beliefs uninterred," Rivlin assured.
"Farewell Shimon. The man whose 'ways are pleasant, and all of his paths peaceful'. Rest in peace, and act (in Heaven) as an honest advocate for the people of Israel whom you loved so much," he concluded.
Peres's children lament their father
In her eulogy, Peres's daughter, Dr. Tsvia Walden, differentiated between Peres the president and Peres the private individual.
"I say goodbye to the man my mother called Buzhik, and I called father, grandfather and great-grandfather," she said.
She opted out of eulogizing "Peres of the state, of the people, the citizen of the world" in favor of talking about his private side.
"I will remember him during this past year at Friday-night dinners at our home, when he was the first to rise for Kiddush, holding the booklet with the Shabbat songs printed in tiny letters, trying to make out the words of the songs through his thick lenses, never skipping a word, singing at the top of his lungs," Dr. Walden recounted.
"He was described as a great negotiator, as someone who always found a way to get what he wanted. To me he was a young man who used his creative skills to get us to eat, who cut sandwiches into triangles and diamonds. 'Try this. It's a Burmese sandwich.' My father pulled out all the creative stops, and used every trick of the trade to tempt us to open our mouths and eat and grow," she went on to say.
"In the eyes of the public he will be remembered as one who dined with kings. I remember him at the table of a French restaurant, when he whispered in my ear, 'it tastes good, but nothing compares to your mother's salad.' To him, Israel's cucumbers and tomatoes were the finest of delicacies," she continued.
Dr. Walden spoke of her father's love for her mother, Sonya, "Mother believed that every injustice in the world could be corrected and was always there to listen, support and help. Father admired this trait in her," she said.
She also spoke of his other loves: "his family, the people of Israel, the State of Israel. A man who loved life in the present and was in love with the promise of the future."
"My father, you were a lover of life, who sprung like a lion at daybreak to fulfill his mission," she praised. "For so long, I tried to catch up with you. But now, heed my loving words, you have earned a well-deserved rest."
Peres's elder son Yoni also decided to focus on his father.
"I was born and raised in a reality quite different from today. Israel was a tiny, young country faced with formidable challenges," he remembered. "That is why father decided to dedicate his life to the country and its people."
On a more personal note, Yoni said "We had a deep and special bond. Despite his many absences, he always took a loving interest in us, even from great distances. He helped me through hard times, and I tried to be at his side too in difficult times, to help him even though he had enormous reserves of inner strength."
In addition to that inner strength, Yoni pointed to his father's sensitivity and caring nature. "He wasn't ruled by his ego, he treated everyone as an equal and was always attentive, interested and supportive," he said.
Yoni said his father wanted the inscription "He was too young to die" on his tombstone. "Indeed, my dear father, this is how I feel—you left us prematurely. There is so much more you could have done," he lamented.
Hi son Chemi Peres was the last of the children to speak, and opened his eulogy in English.
"We believe our father would have wanted us to say a few words in English to all of you who traveled from across the world to join us at this devastating moment, as we say goodbye and pay tribute to a special man who we all loved dearly.
"He would have wanted us to thank you all for your friendship to him and to our people.
"We believe that if he could, he would have used this opportunity to remind us all that the role of leaders today is to serve their people and that there is no greater responsibility and no greater privilege than that.
"He saw in all of you leaders, friends and partners in his quest for peace. We will treasure his memory and honor his legacy."
Chemi switched to Hebrew for a more personal note about his father.
"You never forgot what it means to a Jew. And I promise you that neither will I," he said.
"No one can continue to pave your path instead of you, but many follow in your footsteps, each according to their own way and conviction. And I am one of them, as best I can," Chemi Peres added.
He further recounted his father's eulogy to his mother, Sonya, "Your parting words to her when she left us are engraved on our hearts: 'I fell in love with you on the first day we met, I'll love you till my last day on earth.' Your love was the first and greatest gift you gave me, my wife Gila and our three children. I have carried the love you both instilled in me from the day I was born, as will my wife and children, forever."
Chemi described how in the last years of his life, after leaving the President's Residence, the Peres family grew closer.
"We loved our Friday night meals, the weekends and holidays we spent together in our house overlooking Lake Kinneret, home to poets Rachel and Naomi Shemer, so close to Kibbutz Alumot, which you helped to found," he said.
Chemi went on to say the family will never forget his father. "We will remember you wherever we go and in whatever we do. We will remember you in words, and in books. We will remember you in poems and songs. And in the pathways of the country that you helped build, and in the magnificent undertakings you established."
He continued speaking highly of his father, saying Peres left behind "a monumental and lasting legacy."
"You were a role model, a loyal son to your people and your country, and you strove with unparalleled determination for security and peace," Chemi said.
"You never spared your energy, and it never waned. You made the most of every moment in your life, up to very the end. We will remember you as one whose greatness stemmed from a deep passion to serve a great cause, and not out of a desire for power."
Saying goodbye, Chemi concluded his eulogy: "Farewell my teacher and mentor. Farewell beloved father and grandfather. We will travel the path of light you left us."
The Kadish prayer was recited after the eulogies, followed by the arrival of an honoray guard that carried the casket away.
Then, 500 of the participants, including Peres's family and world leaders, made their way to the Great Leaders of the Nation's Plot, where Peres was laid to rest, where prayers were said and wreaths were laid.