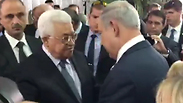 Palestinian President Abbas shakes hands with Netanyahu at Peres funeral
Shimon Peres is still bringing people together even after his death; PA President Abbas came to Peres's funeral and shook Israeli PM Netanyahu's hand and spoke briefly; Abbas: 'Long time, long time; PM Netanyahu: 'It's something that I appreciate very much on behalf of our people and on behalf of us.'
Palestinian President Mahmoud Abbas and Israeli Prime Minister Benjamin Netanyahu shook hands and exchanged brief words at the funeral on Friday of Shimon Peres, the former Israeli leader who won international acclaim for peacemaking with the Palestinians.

US President Barack Obama and other world leaders gathered for the burial in Jerusalem's Mount Herzl cemetery, two days after Peres, a former president and premier, died at the age of 93.

צילום: לע"מ

"Long time, long time," Abbas told Netanyahu and the prime minister's wife Sara, after shaking his hand before the start of the state ceremony.

Welcoming Abbas, as participants recorded the encounter on their cell phones, Netanyahu said of his attendance: "It's something that I appreciate very much on behalf of our people and on behalf of us."

Abbas was given a front-row seat between European Council President Donald Tusk and Hungarian Prime Minister Viktor Orban. Obama briefly greeted the Palestinian leader with a kiss on each cheek before walking down the line to stand next to Netanyahu.

Peres, who died two weeks after a stroke, jointly won a Nobel Prize for his peace efforts with the Palestinians in the 1990s, landmark talks that have failed to achieve a final land-for-peace agreement.

However, with time short between the end of the funeral and the start of the Jewish sabbath at sundown, no plans were announced for any diplomacy on Friday. Obama and Netanyahu, who have had a testy relationship, last held talks on Sept. 21 in New York, on the sidelines of the UN General Assembly.

Peres will be buried in a Jewish religious ceremony, in a plot between two former prime ministers, Yitzhak Rabin and Yitzhak Shamir. Rabin was assassinated by an ultranationalist Israeli in 1995 over the interim peace deals that he and Peres reached with the late Palestinian leader Yasser Arafat.

"A light has gone out," Obama said in a statement after Peres died in a hospital near Tel Aviv on Wednesday, two weeks after suffering a stroke.

Outside Israel's parliament on Thursday, an estimated 50,000 Israelis filed past Peres's flag-draped coffin as it lay in state.

Former US President Bill Clinton, arriving in Israel a day before the burial, visited the plaza in front of parliament to stand, head bowed, in front of Peres's casket.

Obama was leading a delegation of 33 US officials, including Secretary of State John Kerry and Nancy Pelosi, Democratic leader in the House of Representatives.

Britain's Prince Charles, French President Francois Hollande, Italian Prime Minister Matteo Renzi, Polish President Andrzej Duda, Canadian Prime Minister Justin Trudeau and former British leaders David Cameron and Tony Blair were also on a long list of foreign dignitaries attending the funeral.

Israel laid on heavy security, deploying some 8,000 police and intermittently closing the main highway between Tel Aviv's airport and Jerusalem for Obama's motorcade.

Israeli-Palestinian negotiations have been frozen since 2014 and Netanyahu and Abbas, deeply divided over Jewish settlement on land Palestinians seek for a state and other issues, have not held face-to-face talks since 2010.