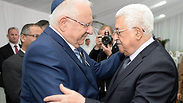 Abbas and Israeli President Rivlin.
Photo: Mark Neiman/GPO
Palestinian Authority (PA) Pressident Mahmoud Abbas was one of many world leaders and dignitaries to attend the funeral of former Israeli president Shimon Peres on Friday. Following the event, Abbaas was heavily criticized in the Palestinian and Arab world media. Hamas' media partners specifically kept a vigilant eye on the Fatah leader's actions, among them handshakes with Israeli Prime Minister Benjamin Netanyahu and President Reuven Rivlin.

One of the criticisms had to do with Abbas attending the event on the 16 anniversary of the death of Muhammad al-Durrah. Al-Durrah was a 12-year-old Gazan boy who was killed by crossfire when he and his father were caught in the middle of a battle between Israeli and Palestinian forces during the second day of the Second Intifada. He subsequently became a symbol for that intifada, and the Israeli-Palestinian conflict at large.




Hamas has called for Abbas to renounce his participation in the funeral. When he was shown crying during the ceremony, he was further derided. A hashtag was spread on social media calling the condolences for Peres' death treasonous, and one of the Hamas-affiliated twitter accounts uploaded a post that read, "What makes you cry, Abbas? Is Peres' departure so painful?"

Abbas' Fatah party responded, saying that the PA president's participation was a message of peace to the world. "The participation is part of the responsibilities placed on Abu Mazen (Abbas' nickname. -ed) as the Palestinian president, due to the attention the world gave the funeral, and part of the action to stop the Netanyahu government's scare campaign against the Palestinian Authority and the attempts by Israel to convince the world that we believe only in violence," a Fatah statement said.