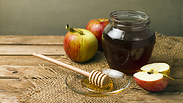 Apples and honey, a traditional Rosh Hashanah treat.
Photo: Shutterstock
Several world leaders took time to send their greetings to the Jewish people, in honor of Rosh Hashanah – a holiday celebrating the Jewish New Year – which starts Sunday.
US President Barack Obama published a video greeting (seen above) on the official White House website.
"Shalom everybody, and Shana Tova. As they have for thousands of years, the High Holidays mark the beginning of a season of renewal – and also of reflection. An opportunity to start over, as well as an obligation to look back with humility," Obama said in the video, "For me personally, my last Rosh Hashanah in the White House is a chance to reflect on the great privilege I've had as President to work closely with the Jewish community."
"While we have accomplished much together in the last seven and a half years, much work remains – as it always does," he continued. "But that's what the Jewish New Year reminds us: That our job is never done. It's an honor for my family to wish yours another sweet year full of hope, health, and happiness. Shana Tova!"
British Prime Minister Theresa May also released a holiday greeting, stating, "It gives me great pleasure to wish the Jewish community in Britain and around the world a very happy and peaceful New Year."
Theresa May
May spoke of the Jewish new years as being a time of remembrance and renewal. "We remember the tremendous contribution made by Britain's Jewish community to this country from those who have served in our armed forces to those leading in fields such as business, science and the arts. You have given so much over the years, while at the same time maintaining a sense of identity, religion and culture," she said.
"In the spirit of renewal, we think of the opportunities ahead not only for ourselves, but for our country: opportunities to forge a bold and positive new role for Britain in the world, to build a better, fairer society, and to bring people closer together," May continued. "I have seen for myself the inspirational work carried out by many Jewish charities and organizations in Britain: helping and supporting others and reaching out to people of different backgrounds and faiths."
She vowed to ensure that "Britain is a place where all our communities can flourish, and that means stamping out sickening and shameful hatred, including anti-Semitism the like of which I never thought we would see again. I am clear that such hatred has absolutely no place in our society."
"As the Jewish New Year begins, I want to renew my unshakeable vow to stand by our Jewish community now and for the years to come. And as Prime Minister–and working in partnership with you–I will do everything in my power to protect your community, and indeed all communities in Britain," May concluded.
British Foreign Secretary Boris Johnson wished Jewish communities across the world "happy and peaceful holiday period and a sweet new year. Shana Tova and Chatima Tova."
"As the Jewish High Holy Days approach, I send my warmest wishes to all Jewish communities in the UK and around the world as they pause to reflect on the past year and to celebrate and make plans for the new year," Johnson said.
He too vowed to fight anti-Semitism: "There will never be a place for it in our society and we must work together to defeat it," he noted.
"The High Holidays hold a particular significance for Israel, a close friend of the UK. We will continue to work closely with them in the pursuit of peace in the region," he added.
London's new mayor, Sadiq Khan, also recorded a video. He said that he was "reminded of the warmth and best wishes extended to him by the Jewish community.
Sadiq Khan
Prime Minister of Canada Justin Trudeau issued a well-wishing statement, which reads, "Today, we join Jewish communities – in Canada, in Israel, and around the world – in celebrating Rosh Hashanah, the Jewish New Year.
Rosh Hashanah, which occurs on the first and second days of the Jewish month of Tishrei, marks the beginning of the Days of Awe. It is a time to reflect on the past year, and look forward with hope and renewed purpose to the year ahead.
To mark this occasion, families and friends gather to pray and hear the blowing of the Shofar – a ram's horn trumpet – exchange greetings, and share a special meal.
On behalf of our family, Sophie and I invite all Canadians to reflect on the important contributions of the Jewish community in Canada to our national fabric, and wish all those celebrating a new year filled with hope, peace, and renewal.
Shana Tova Umetukah!"