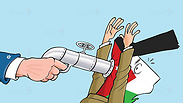 Jordanian public against gas
Jordan defends Israel gas deal following opposition at home
Despite peace treaty between the two countries, Jordanians are overwhelmingly against the importation of natural gas from the 'Zionist enemy'; Jordanian Government spokesman defends deal, telling countrymen that deal will save Jordan $600 million per annum, assures Kingdom won't be dependent on Israel.
AMMAN- Jordan on Monday defended its deal to buy Israeli natural gas that has stirred public opposition, insisting the accord would not leave the Arab country reliant on the Jewish state.

Information Minister Mohamed Momani, who is also government spokesman, told Jordanian television that the deal would cut US$600 million a year from the state's energy bill.

"We will not be dependent on Israel," he said.


Momani said the government was seeking to diversify its sources of gas supplies.

It was "too simplistic to say that sealing such a deal means the kingdom is supporting Israeli occupation," he said, referring to the occupied Palestinian territories.

Hundreds of Jordanians took part in a demonstration Friday in the center of Amman to protest against "the importation of gas from the Zionist enemy."

A social-media campaign called that citizens turn off their lights from 9 to 10pm to protest the controversial deal on Monday. Many uploaded pictures of themselves lit by candles to show their participation with a hashtag meaning "The enemy's gas is an occupation."

The protest was called by trade unions and political parties opposed to the 1994 peace treaty between Israel and Jordan, half the population of which is of Palestinian origin.

The opposition Islamic Action Front, political wing of the Muslim Brotherhood, on Monday kept up its condemnation of the deal, charging the gas was "stolen from Palestinian waters."

A US-led consortium leading the development of Israel's offshore gas reserves announced the deal to sell natural gas from its Leviathan field to Jordan.

US firm Noble Energy, the lead partner, said the contract with the National Electric Power Company of Jordan (NEPCO) was for 300 million cubic feet (8.5 million cubic metres) per day over a 15-year term.