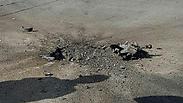 Residents of Sderot reported hearing an explosion caused by a rocket landing at approximately 10:19am Wednesday morning. The rocket debris has been discovered inside Sderot city limits.
Follow Ynetnews on Facebook and Twitter
Two people, a 15 year old girl and a 60 year old man, have been treated for shock, and have been evacuated to Barzilai Medical Center in Ashkelon. There are no reports of damage.
IDF tanks have returned fire and have hit Hamas positions in the Strip.
Sderot Mayor Alon Davidi said that the rocket fell next to his house. "It's a miracle that no one was injured," he said
The rocket fell next to an elementary school in the city. Children at the school were at recess when the sirens sounded and ran to a bomb shelter.
"My son called me crying in terror. He wanted me to come pick him up," said one of the mothers of the children.
"The explosion was deafening," she continued. "It took them by surprise. Everyone was panicking."
A rocket hit the area between two apartment buildings in the city back in August, causing neither damage nor injury. The IDF responded by hitting Hamas targets throughout the Gaza Strip.
Sderot Mayor Davidi continued, saying "the phrase 'drizzle of rockets' must be removed from our lexicon. We trust the prime minister and the minister of defense, and expect them to respond in such a way that those responsible for the rocket fire will understand that this will be the last time (that rocket fire hits Sderot) and that this type of rocket fire exacts a huge price."
He continued went on to say"we won't let anyone destroy the normalcy of our residents. If we don't have quiet, they won't have quiet. I request that the people of Sderot will continue to maintain constant vigilance, and to remain close to fortified areas."
Meanwhile, a "peace" floatilla of European women is expected to arrive in Gaza later Wednesday to "break the Israeli blockade of the strip."