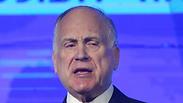 WJC President Ronald Lauder.
Photo: Motti Kimchi
As part of an inquiry into Prime Minister Benjamin Netanyahu, the Israel Police has recently questioned one of the PM's close friends, World Jewish Congress (WJC) President Ronald Lauder.

Shortly after attending the funeral of former Israeli president Shimon Peres on Friday, the Jewish-American billionaire gave testimony to Lahav 433 (a special investigations unit of the Israel Police) officials regarding Netanyahu and his wife Sara. The couple and Lauder are close friends, with Lauder having hosted the Netanyahus on several occasions.

Since the process is currently a preliminary inquiry as opposed to a full criminal investigation, police cannot go abroad to question people who may be involved. Therefore, the police waited until Lauder happened to be in the country before questioning him.

Recently, rumors claimed that Attorney General Avichai Mandelblit was not planning on opening a full investigation, but in an interview given to Israeli Bar Association journal Orech Hadin, Mandelblit said he has not made up his mind yet. "Even though the final decision will be mine, and my responsibility, it is not taken alone," he explained.

"I consult many parties on the way, and this of course includes investigative parties and the State Attorney's Office. The inquiry is still ongoing, there are still actions that need to be taken by the police, in conjunction with the permissions I handed out – and that's the reason the case's final materials has not yet been given to me and is not on my table, awating a decision," Mandelblit continued.

Mandelblit also addressed the idea that the inquiry may be influenced by his personal connections to PM Netanyahu. "I have had no friendly, familial, or political connection to the prime minister," he said, "And I haven't been to his home in Caesarea."