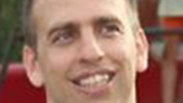 Israeli F-16 pilot survived by daughter and pregnant wife
They raised their daughter together and were expecting another baby girl, but Capt. Ohad Cohen Nov was snatched from his wife and those who loved him the most when his F-16 caught fire as he prepared to land; 'He was happy, funny and always smiling. He had such a good heart.'
Opposite the home of the Cohen Nov family in Moshav Mazor in the center of Israel stands a huge rock on which the names of fallen soldiers from the area are engraved. On Wednesday, Capt. Ohad Cohen Nov joined the list.

Ohad, who only one week ago took on the position of deputy commander of the the F-16I 119 Squadron—also known as the Bat Squadron—was returning from conducting reprisal airstrikes in Gaza after after a rocket was launched into the Israeli city of Sderot on Wednesday morning when tragedy struck.

As Ohad was preparing to land the aircraft, a fire broke out. While his navigator managed to ejected himself from the jet, Ohad, who attempted to save it, was killed.

The 34-year-old pilot is survived by his pregnant wife, Shahar, and a young daughter. Over the last few years, Ohad had been living on the Ramon Airbase in the Negev and was considered by his colleagues to be one of the most respected pilots, passing courses to operate both the F-15 and F-16 jets.

"He was a person of gold. He was happy, funny, and had a good heart. He was always nice and courteous and smiling. He loved challenges and was an excellent pilot. He had everything," said one of his fellow pilots who served with him for many years in Ramon Airbase.

Dozens of people visited the Cohen Nov family's home to express their condolences to Ohad's parents and two older sisters.

"He was a wonderful person and I am so upset right now," said one pilot and a close friend of Ohad.