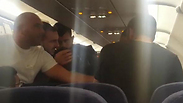 Video footage caught on the flight
Every year during the High Holy Days, Hassidic Jews of the Breslov sect fly to Uman, Ukraine, to visit the burial site of Rabbi Nachman of Breslov. And almost every year, an unpleasant incident occurs during one of their flights.

This year's, such a case occurred during a recent Israir flight, during which passengers began to act erratically and fight. Crewmembers had a hard time separating the combatants, and other passengers had to assist them.

A mid-flight altercation between Israelis heading to Uman (באדיבות דיווח ראשוני בפייסבוק)

"If this is what happens between Jews," one of the other passengers could be heard egging them on. "Imagine what would have happened if if this went down with an Arab on board." Another said that "Those people, criminals, give us all a bad name and desecrate God's name."
Taking over the PA system
Another strange video shows Breslov followers taking over the PA system at an airport in Kiev. The Israeli passengers began to sing and loudly pray over the PA system, which is normally used for special announcements and security management.

"All sorts of people fly to Uman," said an Israeli awaiting at the terminal. "Some of them arrive drunk or on drugs, embarrassing the rest of us. The local (Uman) police doesn't interfere, because the believers who visit bring in a lot of money, but Israel's reputation is severely damaged. I felt very ashamed while I was waiting to board."

The footage of the raucus caused on the Israir flight was preceded by a different incident of an altercation between Israelis on an El Al flight to Ukraine. In a letter on the events of the flight, the El Al flight's captain warned that "If such occurences continue, the airline is going to lose of its planes."

The pilot continued to describe the flight, saying that "After about an hour (of flying), the flight manager brought to my attention that a large number of passengers occasionally smokes in the bathroom. He informed me that he cannot control them, since every time a passenger is caught smoking, the flight attendant rightfully proceeds to pour water over the the waste basket to prevent it from catching fire, during which time the passenger escapes and a game of 'tag' begins on the plane. The flight attendants also detected the smell of marijuana on board, together with a large number of passengers drank hard liquor out of personal bottles, became inebriated and acted accordingly."