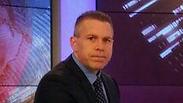 Minister of Public Security, Strategic Affairs and Minister of Information Gilad Erdan
Photo: Zehavit Shasha
Minister of public security and Joint List head face off over visiting convicted terrorist
A public back-and-forth took place on Friday, as Minister of Public Security, Strategic Affairs and Minister of Information Gilad Erdan called Joint List Head Ayman Odeh 'a supporter of terrorism' for visiting Marwan Barghouti, who was convicted as masterminding attacks that caused hundreds of Israeli casualties; In response, Odeh says that it was Erdan's office that approved the meeting, describing Erdan's comments as 'incitement-filled.'
Minister of Public Security, Strategic Affairs and Minister of Information Gilad Erdan (Likud) came out against Joint List Head Ayman Odeh on Friday, due to Odeh's meeting with convicted terrorist Marwan Barghouti, who is currently serving five life sentences under the Israel Prison Service.

Posting on his Facebook page, Erdan wrote, "Odeh met with the murderer Barghouti in prison yesterday. This isn't the first time he's visited him. It's very important to Ayman to visit him. In the past, he's promised that he and Barghouti will 'march together in Jerusalem.'"




"On what planet does the head of a political party meet with a terrorist who is directly responsible—and this is just one example—for the terrorist attack at Beit Maariv?" continued Erdan.

"You didn't make it to Shimon Peres' funeral, a man who always worked toward cohabitation between Jews and Arabs. You and the other members of your party chose to desecrate his memory. But Maruan Barghouti, a man who is responsible for dozens and hundreds of funerals of innocent people—this man you have no trouble visiting?"

Erdan ended his post by saying, "There's a limit, Mr. Odeh. And you've crossed it. I'm not going to be silent about this."

Odeh, for his part, answered the post by saying that Erdan not only knew of the meeting in advance, but that he was the one who approved it, making the incredulity of his statement inauthentic.

"Erdan personally approves every meeting between an MK and a political prisoner," wrote Odeh. "So it's likely that he was drafting his provocative, incitement-filled post while he was approving it."

Odeh added that "It's disturbing to see the minister in charge of the police turning the political arena into one of threats and intimidation."

Just before the Sabbath, Erdan managed to answer Odeh's latest remarks via Twitter. "It seems that Ayman Odeh doesn't just support terrorism and disparage the public he is supposed to represent, but that he's also a serial liar. The minister of public security does not approve inmate visitation, as this is an independent authority held by the Prison Service. And by the way, Ayman: Barghouti isn't a "political" prisoner, as you put it. He's a murderer. And you support terrorism, not peace. If you did support peace, you would at least have honored Peres' memory."

The truth, it seems, lies somewhere in the middle: while the Joint List's spokesperson posted the Ministry of Public Security's a priori approval of the meeting in response to Erdan's Tweet, the Israel Prison Service stressed that the ministry's involvement is merely a technicality and is done to avoid having an MK directly request such a visit from the Prison Service. This despite the fact that in actuality, after the request is processed by the ministry, it is transferred to the Prison Service, which makes the decisions in such matters.