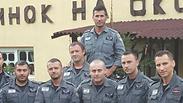 As they do every year, 15 Israel Police officers traveled last year to Uman, Ukraine, to help in maintaining public order and reducing crime when tens of thousands Israelis travel there to visit the burial site of Rabbi Nachman of Breslov.

This year, they broke up fights between Israeli visitors and others, saved a young man's life who had passed out from excessive drinking and found some people who had been missing for a few hours. They returned to Israel on Thursday afternoon.

The task force is under the command of the Operations Division of the Israel Police and consisted of riot police, a combat medic and a bomb disposal expert. They joined local police to handle dozens of incidents that included drug use, violence and even impersonating an Israel Police officer. The Israeli police there also handled incidents of locals stealing from the visitors and returned the stolen property to its rightful owners.

It was the Ukrainian police who asked for Israel to send the help in dealing with tens of thousands of Israelis who travel for Rosh Hashanah. The Israel Police said that their officers' presence in their uniforms was of great importance. They said that, while their officers worked in tandem with the local forces, there were certain cases when Israeli officers handled an incident before the local police arrived.

Kiev Airport during the Israeli commandeering of the PA system (באדיבות דיווח ראשוני בפייסבוק)

Despite these efforts, the mass annual pilgrimage to Uman still had embarrassing moments of shockingly poor behavior by Israelis. One took place on an Israir flight when a physical fight broke out. Another involved an Israeli taking over a PA system to sing and pray through at an airport in Kiev.