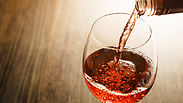 Israeli wines recognized
Photo: Shutterstock
Israeli wines gain international recognition
Editors from the US magazine Wine Spectator visited Israel to take a taste of wines produced in the holy land, and were surprised by what they found - a thriving wine industry producing high quality wine; 23 Israeli wines were rated exceptional, including two which use the same variety of grapes used in biblical wine presses.
For the first time ever, the magazine Wine Spectator will dedicate its October cover to Israeli Wines, writing "surprising quality from an emerging region."

The issue comes out on October 15th, right in time for the Jewish holiday of Sukkot.

This step has far reaching implications for the Israeli wine industry in particular, and possibly for the entire country as a whole.
Wines of the Promised Land
The story begins with Wine Spectator Editor Kim Marcus's trip to Israel, which included wine tasting tours all over the Jewish state. He was looking for wines to bring back to his editorial staff that holds a round table blind taste test of different wines from different wineries from all over the world.

According to Noam Yakobi, CEO of the Recanti Winery, Marcus was thrilled with the innovation and quality of Israeli wines, and even noted how much Israeli wines have improved since his last visit to Israel in 2008.
The magazine will publish a list of Israeli wines compiled by the magazine, including 110 wines who were ranked between "very good" and "exceptional" by the magazine.
Who's on the list?
The list includes a wide variety of wines, proving that the Israeli wine industry is an industry which never sleeps. There were red wines, whites, sparkling wines, and popular blends such as Merlots and Cabernet Sauvignons.

This, along with pieces on different wines made of Mediterranean grapes, such as Carignan Raslan, and local Israeli grape varieties such as Ravi and Hamdani.

The wineries featured in the magazine include: 1848, Agur, Alexander, Asaf, Barkan, Carmel, Clos de Gat, Crimson, Dalton, Flam, Harei Galil, Golan Heights Winery, Gva'ot, Tavor, Recanti, Tulip and Tzora, Capsuoto, Karmei Yosef, Kishur, Margalit, Matar, Midbar, Or Haganoz, Pelter, Psagot, Segel, Shiloh, Kerem Shevo, Sumak, Teperberg, and Tzora, amongst others.

Exceptional Israeli wines scoring 90 points

White Wines

• Chardonnay, Clos de Gat, Judean Hills, 2012

• Chardonnay Impression, Teperberg, Judean Hills, 2012

• Shoresh White, Tzora, Judean Hills, 2014

• Cremisan Wine Estate, Hamdani-Jandali, West Bank, Star of Bethlehem, 2012

• Marawi, Recanti, Hebron, 2014

• Gewurztraminer, Golan Heights Winery, 2012

Red Wines

• Tabor, Cabernet Sauvignon, Galilee Limited Edition I/II.000 2011

• Matar, Cumulus, Galilee, 2013

• Or Haganuz, Cabernet Sauvignon, Galilee, Marom, 2013

• Tzora Shoresh Red, Judean Hills, 2014

• Recanati, Special Reserve, Galilee 2013

• Shiloh, Cabernet Franc, Judean Hills, Shor 2013

• Shiloh, Mosaic, Judean Hills, 2012

• Tulip, Espero, Galilee, 2013

• Clos de Gat, Cabernet Sauvignon, Judean Hills, Har'el, 2013

• Agur, Special Reserve, Judean Hills, 2012
Exceptional Israeli wines scoring 91 points
White Wines

• Matar, Chardonnay, Galilee, 2014

Red Wines

• Recanati, Carignan, Judean Hills, Wild Reserve, 2014

• Galil Mountain, Yiron, Galilee, 2012

• Tzora, Judean Hills, 2014
Exceptional Israeli wines scoring 92 points
White Wine
Tzora, Judean Hills White, 2014
Exceptional Israeli wines scoring 93 points
Red Wine

• Tzora, Misty Hills, Judean Hills, 2013
The big winners
Its hard to point at one winner, because as a whole, the entire Israeli wine industry is winning its 15 minutes of fame. But if one were to base the winner only on points, then it is possible to see that 23 wines were awarded 90 points or more, with the highest ranked wine – Tzora Winery's Misty Hills – being awarded 93 points.

Perhaps the most surprising finding was that white wines comprised approximately 40 percent of the list of Israeli wines scoring over 90 points, especially in light of the fact that white wine producers constantly complain how hard it is for them to make the product.

Its impossible not to recognize two special white wines which each received 90 points; Marawai from Recanti Winery in Hebron and the Hamdani-Jandali from the Crimson Winery in Bethlehem. These wines are made from the same types of grapes that were used in wine production in biblical times thousands of years ago.