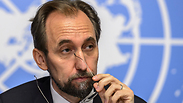 UN High Commissioner on Human Rights
Photo: AFP
The UN High dommissioner on human rights—Jordanian Prince Zeid Ra'ad Zeid Al-Hussein—called on the UN deputy secretary-general to prepare to publish "the Black List" of Israeli businesses and international corporations which have ties with the West Bank, east Jerusalem and the Golan Heights to facilitate the launching of boycotts.

Ties which can qualify a business for the Black List include those with any branches in the territories. These include, for example, banks which could be boycotted by the UN under the criteria set out by Al-Hussein even if its main operation centers are not situated in the West Bank or the Golan Heights.

"It is reasonable to assume that the UN has ties with businesses which are expected to be included on the list, and therefore the UN must stop these illegitimate links," Al-Hussein wrote to the UN deputy secretary-general, the Swedish Jan Eliasson.

He urged the issue to be highlighted as soon as possible and be brought to the attention of the UN Procurement Division which manages regular contacts with Israeli companies and only recently reported that the volume of procurement from Israel has doubled twice in the last two years.

It was also pointed out that according to previous declarations by the secretary-general and UN reports, the world body is obligated to act in accordance with the resolutions taken by the Human Rights Commision.

Last March the UN High Commission in Geneva adopted a resolution calling for the compilation of a list of businesses operating in the territories, in east Jerusalem and the Golan Heights to bring about an international boycott on them.

In the letter to the Eliasson, Al-Hussein added a description of how the council is currently engaged in institutionalizing an orderly working method for formulating annual lists, in cooperation with other countries, and "bodies and stakeholders."

Officials from the Israeli Foreign Ministry have said that that the implementation of the resolution could result in an economic disaster for the State of Israel since Israeli businesses operating outside Israel will be threatened with consumer boycotts. Furthermore, international corporations operating in Israel will be forced to choose between having their products labelled by the UN or activity in large parts of Israel.

Israel's UN Ambassador Danny Danon responded to the letter by stating his intent to fight boycotts of Israeli businesses and international corporations with business ties with East Jerusalem, the Golan Heights and the West Bank.

"Countries need to decided if they are ready to finance activities intended to label and boycott Jewish businesses. This is crossing a dangerous line and a slippery slope into times of discrimination in history in which such 'Black Lists' were published," he said.