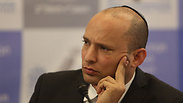 Education Minister Bennett
Photo: Gil Yohanan
Education Minister Naftali Bennett called on Saturday night to pardon Sgt. Elor Azaria, who is on trial after shooting dead a seriously wounded terrorist.

"I've been following the trial and I've reached the conclusion that if Elor Azaria is convicted, he needs to be given an immediate pardon and not spend a single day in prison," Bennett said on Channel 2's Meet the Press.

The leader of Bayit Yehudi claimed that "the investigation was seriously tainted in an almost irreparable manner. In addition, (Azaria) and his family have already paid such a heavy price."




"That is the message that we need to send the soldiers of the Israeli Defense Force," he argued. "We send the soldiers of the IDF to protect us from a wave of murderous Palestinian terrorism. We're with you. If you blatantly stray from the path, there's a way to handle it. But not in a way in which you're condemned that very night. That's why I expect Elor Azaria to be pardoned."

Following Bennett's comments, Azaria's lawyers called on Justice Minister Ayelet Shaked, also of Bayit Yehudi, to express her position on what they say is the "tainting" of the judicial procedure.

"We don't deal with speculations or assumptions; we are working tirelessly to get an acquittal for Elor, which makes sense given the evidence," the defense team said in a statement.

MK Eyal Ben-Reuven of the Zionist Union, a major general in reserves, accused Bennett of "continuing to wage an ugly political war against the IDF's ethics and against the judicial procedure."

MK Elazar Stern of Yesh Atid, a major general in reserves as well, also blasted the remarks.

"Minister Bennett has already gone up to the Knesset podium to tell us all that he had called Elor Azaria's father. It took 48 hours for the prime minister to announce to the nation that he too spoke to the soldier's parents," he said. "This evening, the education minister called for a pardon (for Azaria). I suppose it'll be two days before the prime minister urges to give (Azaria) a commendation."

"The sad, transparent clash between Bibi and Bennett is undermining the trust in the IDF. Politicians should also have limits when it comes to national responsibility," he added.