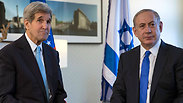 Kerry and Netanyahu meet in Berlin
Photo: AP
Netanyahu does damage control with US over settlement construction
After strong condemnation from Washington of decision to build 300 housing units in the settlement of Shvut Rachel, the prime minister explains to the US secretary of state that the construction is meant to provide an alternative for Amona residents.
Prime Minister Benjamin Netanyahu has spoken to US Secretary of State John Kerry in an effort to mitigate the latest crisis with Washington over the Israeli government's decision to approve the construction of 300 housing units in the settlement of Shvut Rachel.

Netanyahu told Kerry that the construction in Shvut Rachel is meant to provide an alternative for the residents of the illegal outpost of Amona, which is schedule to be demolished in December after the High Court of Justice determined it is built on privately-owned Palestinian lands.

Netanyahu added that the new housing units will be built only if no other solution is found.

The prime minister has been holding a series of meetings with Defense Minister Avigdor Lieberman, Justice Minister Ayelet Shaked, Attorney General Avichai Mandelblit and other officials in an effort to find a solution to the Amona crisis and to prevent similar such cases in the future.

Both the State Department and the White House issued unusually strong statements against the decision last week.

"Proceeding with this new settlement is another step towards cementing a one-state reality of perpetual occupation that is fundamentally inconsistent with Israel's future as a Jewish and democratic state," State Department spokesman Mark Toner said in a statement. "Such moves will only draw condemnation from the international community, distance Israel from many of its partners, and further call into question Israel's commitment to achieving a negotiated peace."

The White House also issued a sharp condemnation of the decision, saying it undermines the peace process and contradicts assurances from Jerusalem.

"We did receive public assurances from the Israeli government that contradict this announcement," White House spokesman Josh Earnest said at a news briefing. "I guess when we're talking about how good friends treat one another, that's a source of serious concern as well."