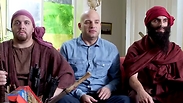 A new video recently put out by the Israeli Foreign Ministry, which depicts a Jewish couple whose home is constantly claimed by foreign invaders, has raised ire.

Critics say the video, which seeks to present a humorous version of the history of the Land of Israel, has achieved the opposite goal by distorting Middle Eastern history, erasing the history of Israeli Arabs and ridiculing quite a few nations.

The video was produced by the Foreign Ministry's Media and Public Affairs Division. It tells the story of the "Jacob & Rachel Land of Israel" family, who suffers constant interruptions by foreign invaders who claim ownership over their home and gradually push them out.

First come the Assyrians, who are presented as bearded hipsters. They are followed by an emissary of Nebuchadnezzar, then the Greeks, the Romans, the Crusaders and the Ottomans.

To their rescue comes a British emissary, who informs them over a cup of tea that the UN has decided to give the Jews their land—only if they signed "here and here and here."

But while the couple celebrates to the tune of "Hava Nagila," there is another knock on the door, and a couple of Palestinians arrives.

"Israel's foreign policy is losing touch with reality in a heart-rending manner," said MK Ahmad Tibi in response to the video. "The ridiculous attempt to disinherit the Palestinians from their links and ties to their country and homeland is despicable and pitiful. We didn't come here on a boat or a plane. We're the salt of the earth."

Deputy Foreign Minister Tzipi Hotovely said the video was meant to "take preventive steps."

"The aggressive and fictitious Palestinian campaign to sever the ties between the people of Israel and their historical heritage, which will reach its peak in 2017, is receiving an answer based on Jewish history and the thousands-of-years-long connection between the Jewish people and the Land of Israel," Hotovely added.

"We knew the video was provocative and that it will cause controversy," a senior Foreign Ministry official said. "This is a video meant to present a truth that is still being denied today by many."

Noam Katz, the deputy director of the Media and Public Affairs Division added, "We're not from the UN. We tell our story about our ties to the Land of Israel throughout the generations."