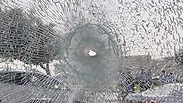 The terrorist who carried out a deadly shooting attack in Jerusalem Sunday morning, leaving two dead and five injured was supposed to begin a four-month prison sentence the same day for attacking a police officer.

Moreover, Hamas announced shortly after that attack that the 39-year-old terrorist from Silwan, whose name is currently under a gag order and who held full Israeli citizenship, was "one of ours."

In a photograph circulated of the the terrorist, he can be seen wearing a Hamas scarf while holding a picture of Hamas's spiritual leader Sheikh Ahmed Yassin.

Given his history as a repeat offender, questions have been raised as to why he was able to walk around freely. While he had previously served a number of prison sentences for a variety of offenses including aggravated battery, illicit military training and setting fire to vehicles. He has been photographed wearing Hamas paraphernaliaand support Hamas in general.

Between January 2015 and January 2016, the terrorist sat in prison for incitement to violence and terror. During his term he was also tried for attacking a police officer on a separate occasion. Last May he received an additional four months in prison. However, after submitting a request to postpone the commencement of the sentence the court ruled that he would begin his term on October 16.

The state subsequently requested that the date be moved forward the ninth of the month. However, it was never requested that he remain detained in remand in the interim. Given that he had already been released during the investigative stage therefore, when the indictment was issued against him the option of extending his arrest was precluded.

According to the indictment issued against him after he attacked a police officer, it was written that in 2014 he attempted to cross a roadblock set up by police and to enter the Temple Mount. After he was asked to leave by one of the policemen, the terrorist responded by hitting him. After being arrested and put into the police vehicle, he turned to one of the officers and exclaimed, "remember my face. We will meet."

Furthermore, on a popular local Facebook page, it was written that approximately two weeks ago, he was barred from entering Jerusalem for his activities connected with the Al-aqsa mosque on the Temple Mount. Business owners in Eastern Jerusalem who knew the terrorist also said that he was a known activist for Al-aqsa.

"Everyone knows him around here," explained one business owner."Everyone knows him here. He was like a local judge. His family also owns a sweets shop."

It turns out that the terrorist was released during his last arrest while an investigation into his actions was ongoing. Therefore, when the indictment was finally filed against him, it was impossible to also request an extension to his remand.

The terrorist wrote on his Facebook about his love of the al-Aqsa mosque before he was to carry out his sentence.

"I don't miss anyone like I miss you, and I don't love anyone like I love you," he wrote.

"Despite their (the Israeli) prison, my love for you has only grown stronger. They have kept me from my beloved for four months, but I say that four months is nothing over the course of a lifetime. Don't abandon the al-Aqsa mosque."

He wrote in another post that "according to Israeli radio, I have been prevented from leaving the country due to suspicions that I my commit a terror attack. What constitutes a Hamas supporter? What constitutes a traveler? Who is defined as a terrorist?"

The terrorist was indicted in January of 2015 on charges of incitement. The indictmnt listed several examples, such as "during Operation Protective Edge, the suspect wrote Facebook statuses such as '19 of your soldiers were killed. They were child killers, the most cowardly of soldiers, despicable and vile soldiers. The heroes of al-Qassam (Hamas's military wing) sullied your heads in the mud. The al-Qassam soldiers of the resistance. God is Greatest. Praise be to God.'"