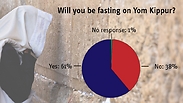 Yom Kippur 5777
Photo: Ynet
Fast and easy: 61% to fast on Yom Kippur, 43% to relax
A survey conducted by the Geocartography Institute funds that 61% of Jews in Israel plan on fasting during Yom Kippur, in a 3% rise from last year; 65% of women compared to 58% plan to fast this Yom Kippur; 43% state they will rest during the holiday, a fifth of the population is planning to enjoy watching television.
A survey conducted before the High Holy Days found that 61% of the Jewish Israeli population plans on adhering to Jewish custom by avoiding food and drink on Yom Kippur.

Ynet and Bina—the Jewish Movement for Social Change—commissioned the survey from the Geocartography Institute. The survey found a 3% increase in people intending to fast, from 58% during the previous Yom Kippur.

Taking a more in depth look, the survey showed that those fasting include 36% of the secular population, 89% of the traditional sector and 97% of those who identify as religious or ultra-orthodox. In addition, 9% of secular partcipantss, 53% of traditional participants and 96% of religious participants will be attending synagogue. 5% of those who will not fast are still planning on going to synagogue.

65% of women stated they will be fasting, together with 58% of men.
Over one third to attend synagogue
When asked how they plan on spending the holiday, participants gave a variety of answers. 43% answered that they will use it for rest and relaxation, 39% plan on reading a book, 38% will attend synagogue services and 35% will spend it with family. 20.5% are looking forward to watching television, 18% will spend it with friends, 15% will go out for a walk, 9% will be cooking and eating well, 4% will go on bike rides and 4% will spend it doing other activities.

Bina CEO Eran Baruch responded to the findings by saying, "You Kippur is an important and significant day, and most Israelis choose to commemorate it in some way. It is a time to stop and take stock." He added that "We at Bina praise the fact that this day is (seen as) an opportunity to and deal with the meaning of contemporary Jewish identity."

The survey included 500 participants from Israel's adult population, with a maximum margin of error of 4.4%.