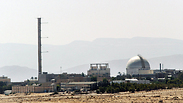 Dimona reactor to get a new name
Photo: AFP
PM to name Dimona reactor after Shimon Peres
Netanyahu has decided to officially name the Dimona nuclear facility after former President Shimon Peres; PM Netanyahu: 'Shimon Peres worked hard to establish this important facility, a facility which has been very important for Israel's security for generations.'
Prime Minister Netanyahu has announced that the atomic reactor in Dimona will be renamed after former President Shimon Peres. He made the announcement at the beginning of the weekly cabinet meeting.

"I would like to also update the members of the government that it is my intention to name the atomic research facility in Dimona after Shimon Peres," the prime minister said.

He continued, saying "Shimon Peres worked hard to establish this important facility, a facility which has been very important for Israel's security for generations. I believe that it is proper and fitting to name the facility after him."

Netanyahu also touched upon the deadly terror attack at the Ammunition Hill light rail station in the capital, Jerusalem.

"There has been a drive by shooting terror attack. He hit several people," he said.

"I would like to wish those injured a speedy recovery," he continued. "I would also like to say that, according to initial reports, the Israel Police acted in a quick and determined manner, pursuing the terrorist and ultimately neutralizing him."

The former president passed away a week and a half ago after spending his last days in a coma at Tel Hashomer Hospital.