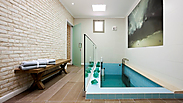 Attendants' presence will now be voluntary.
Photo: Roi Mizrahi
Women in Israel to be allowed to use mikvehs without attendants present
All Jewish ritual bath facilities will have signs in them stating that an attendant's presence is not to be forced upon women in the facility; the new directive comes following a decision by the Ministry of Religious Services, which stands in contrast to the Chief Rabbinate.
Following controversy over the matter of women using mikves without attendants, the Ministry of Religious Services has instructed all mikvehs in Israel to allow women using their services to keep their privacy, and not to force women to be accompanied by (female) attendants who usually oversee the ritual bathing in order to assure that it conforms to religious rules.

These new instructions come following a protest campaign that called for mikvehs to allow women to keep their privacy while at the facility. The Chief Rabbinate of Israel opposed the decision, since the attendant's role is to assure that the ritual bathing is done in accordance with religious laws. This is an important matter since certain religious rights and ceremonies depend on the 'purity' of a person, which is achieved through bathing in a mikveh.

The bathing requires women to be fully disrobed, thus making it uncomfortable for some women, who do not wish to take off their clothes in front of a woman they do not know.

In addition, new instructions forbid employees at the Mikveh from asking women who come over to use the facility about their marital status, or from making their answers of these questions a requirement for admittance. Up to now, single women would generally not be allowed to bathe in mikvehs, since one of the mikveh's main uses is to 'purify' a woman following her monthly period. The facilities are now instructed to allow women to use the mikvehs, but they will hang up signs that inform comers that according to religious authorities, single women are not allowed to bathe there.