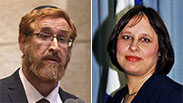 Glick and Mak-Kalmanovitch
Photo: AFP, Courts website
MK Rabbi Yehuda Glick (Likud) posted a condemnatory message on his Facebook page addressed to Jerusalem District Judge Hagit Mak-Kalmanovitch, who approved the application to delay the prison sentence of the Arab Israeli terrorist who carried out the shooting attack in Jerusalem on Monday.

Rather than immediately address the issue of the terrorist's actions on Ammunition Hill yesterday, Glick began by reminding the judge that it was she who had given the order in the past that kept Glick off the Temple Mount, noting the possibility that he pose a danger to public order. One week later, Glick was shot in Jerusalem.

Referring to the Jewish tradition of forgiving one's neighbor before the Day of Judgment on Tuesday night, Glick wrote, "On the eve of Yom Kippur 5777, I don't forgive you. The blood of the dead is on your hands.

I will never forget that Wednesday, 10/22/14, when I stood before you begging for my life. Trying to claim with all my strength that the accusation was baseless. You preferred to believe terrorists and their helpers, the Muslims in the Israel Police."

He continued (with the missing punctuation appearing thus in the original), "I gave you a polygraph test, and you said that I wasn't acting according to criminal procedure. I yelled before you do you prefer the truth or 'criminal procedure'?

"You ridiculed me

"You preferred terrorists over me, and you decided to bar me from the Temple Mount because as you said it, 'There's a fear of danger from me'

"I accepted the distorted and false claim, even though time after time I was attacked at the temple Mount, and I never raised a finger or a bad word against anyone, you preferred to believe violent people, terrorists, scoundrels, liars. I felt that you were assassinating me!!"

"Exactly one week later Wednesday 10/29/14, on the basis of the support that he received from you, Mutaz Hijazi tried to shoot me and murder me. His assassination attempt didn't hurt me at all. Your assassination attempt was like a knife piercing my heart.

"Needless to say that in the end it was proven beyond any doubt that I was as pure and clean as snow."

The above, edited-down tirade in Hebrew took up the vast majority of Glick's post before he moved on to Mak-Kalmanovitch's influence on recent events: "You didn't listen to my please, but to the pleas of that terrorist who was arrested so many times for violence you did listen.

"You were cruel to the merciful and merciful to the cruel.

"The blood of the two killed yesterday is spread on your hands."

The 39-year-old terrorist was supposed to serve four months in prison for attacking a police officer. A hearing had been set for April, but the defendant did not appear in court. His lawyer explained that this was because he had begun a new job, and Mak-Kalmanovitch pushed the hearing back by a month and a half to May 30.

On that date, the terrorist was sentenced to four months' imprisonment, and he applied to have the start of that sentence delayed until October.

Contacted by Ynet about his Facebook post, Glick responded, "I think that the post speaks for itself. When I saw her name, it brought me back in a flashback to a day when I felt like Dreyfus," the French army captain who was convicted in what is today seen as a scandalous display of anti-Semitism, "helpless against injustice in the name of the law."