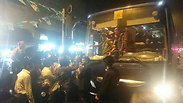 Haredi crowds jeer soldiers
Haredi crowds verbally abused dozens of Ultra-Orthodox soldiers serving in the Kfir Netzach Yehuda Brigade in the Ultra-Orthodox Jerusalem neighborhood of Mea Shearim Sunday night.

The incident took place next to Shabbat Square when a bus carrying the soldiers came across a Haredi demonstration. As a result of the road being blocked, the soldiers, clad in IDF uniform, were forced to march on foot through the protest.

Haredi protesters jeer IDF soldiers (צילום: יוסי קלאר)

According to eyewitnesses at the scene, the protesters began hurling abuse at the passing soldiers, such as "Zionists out" and "Hardakim" ("frivolous Haredim") along with other derogatory terms used in the Haredi world for ultra-Orthodox youths who have enlisted in the IDF.

The soldiers, by contrast, responded by dancing and singing, "The eternal nation is not afraid of the long journey."

The protesters poured onto the neighborhood's streets to demonstrate against the arrest carried out by the IDF military police of a draft dodger. Carrying placards and signs bearing the words "We overcame the pharaoh, we overcame Nebuchadnezzar, we overcame the Nazis and we will overcome this," they also set fires on the roads and littered the streets as they toppled trash cans.

Over the past few years, the IDF has repeatedly condemned the prevalent phenomenon of violence and threats within the Haredi community directed against soldiers and their families.

In practice however, with the exception of just a few cases in which indictments have been issued, the feature has become increasingly characteristic and thus indicative of the security apparatus's seeming inability to enforce the law.

Despite the persistent culture of rejectionism however, the IDF is continuing to expand its units to incorporate ultra-Orthodox youth into its ranks.

Next month, for example, the IDF will be establishing a new company within the Paratroopers' Brigade specifically for Haredi men. This will augment the aforementioned company in the Kfir Brigade as well as its equivalent in the Givati Brigade.

Furthermore, efforts will continue to reduce the number of Haredi draft dodgers who are not enrolled in any academic or religious learning program—a fact which qualifies some for either a postponement or total cancellation of military service.

In July, Ynet learned that some 4,000 Haredi draft dodgers had attempted to avoid enlistment under the pretense of religious observance. However, when these individuals were actually investigated by the IDF, using methods—among others—such as Facebook checks, it was discovered that the they were, in fact, leading secular lifestyles and were consequently ordered to draft.