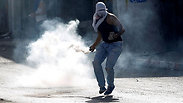 Clashes in Silwan (File photo)
A Palestinian man was killed in clashes that broke out between Israeli Police and Border Police in the East Jerusalem neighborhood of Silwan on Tuesday night, during the Yom Kippur fast.

Ali Atef Shuyukhi, 20, was shot dead in the clashes, which lasted for a few hours. He was released from Israeli prison a few months ago after serving a year-and-a-half-long sentence.

The Jerusalem Police said masked men started hurling stones and Molotov cocktails at Border Police officers who were on patrol in Silwan.

Police said the rioting "was directly targeting the force and substantially endangered the lives of the soldiers."

This led the troops to fire at the rioters, hitting Shuyukhi. The rioters then escaped, taking Shuyukhi with them.

According to the Palestinians, Shuyukhi, who conflicting reports say was killed by a bullet to the stomach or chest, was buried by his family only two hours after the incident at the Turbet al-Sawahira cemetery in Jerusalem. The rushed burial was done, the Palestinians said, due to concern Israeli forces will take the body and refuse to return it.

Hamas has endorsed Shuyukhi and on Wednesday dozens of residents of Silwan were outside his home, putting up posters praising him and calling slogans in his honor.

Police and Border Police also clashed with Palestinians in Isawiya and Jabel Mukaber. In Isawiya, masked rioters hurled Molotov cocktails and stones and launched firecrackers at the force, set trash cans on fire and blocked roads at the entrance to the neighborhood. The Israeli troops broke the riot using crowd dispersal measures.