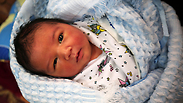 The Gaza Strip is one of the most densely populated places on Earth, and on the eve of Yom Kippur on Tuesday, its two millionth resident was born in a Rafah hospital.

Two millionth Gazan

Shortly after his birth, the Palestinian Interior Ministry released a statement that read, "The Gaza Strip broke the barrier of two million people when the baby Walid Shaath was born. The two million and first baby is Lana Ayad from Gaza City."

Walid's father, Jihad Shaath, said in reply, "I hope that just like we broke the barrier of two million in the Gaza Strip, we'll also break the Israeli blockade on it. I hope that my son will become one of the soldiers of the al-Aqsa (Martyrs' Brigade) who will bring about the liberation of the al-Aqsa Mosque."

Jihad and Walid's mother, Tahani, received a certificate from the Interior Ministry.

Passing two-million-persons mark, Gaza has 4,661 inhabitants per square kilometer. In the West Bank, by comparison, which is 16 times larger than the Gaza Strip, there are about 2.5 million Palestinians.