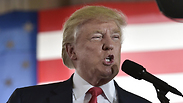 Trump attacks UNESCO resolution in Facebook post
The Republican presidential nominee attacks the UN and the draft resolution on his Facebook page saying, 'This is further proof of the anti-Israel sentiment taking place at the United Nations. Jerusalem is the eternal capital of the Jewish people and under my leadership, we will recognize it as such.'
In a Facebook post Thursday night, Republican nominee for President of the United States, Donald Trump, attacked the UNESCO adoption of a draft resolution disregarding the Jewish connection to the Temple Mount and the Western Wall, saying, "this ignores the 3,000 year old link between Israel and its capital Jerusalem."

Trump further went on to attack the UN, writing, "This is further proof of the anti-Israel sentiment taking place at the United Nations. Jerusalem is the eternal capital of the Jewish people and under my leadership, we will recognize it as such."

In the same post, Trump also attacked President Obama, saying, "The decision by the Obama administration to strike the word 'Israel' after the word 'Jerusalem' in the President's prepared text was a capitulation to Israel's enemies, and a posthumous embarrassment to Shimon Peres, whose memory the president was attempting to honor. In a Trump Administration, Israel will have a true, loyal and lasting friend in the United States of America."

Trump was not the only critic of the resolution however, which drew widespread condemnation by many groups. Chief Rabbi Pinchas Goldschmidt, President of the Conference of European Rabbis, issued a statement saying, "UNESCO has dismissed thousands of years of Jewish history in 24 votes. Those who voted for the motion are politically motivated and have lost all credibility in the eyes of the millions of Jews who come yearly to pray at the western wall and the millions who pray daily that G-d should return to his dwellings in Zion."

Likewise, Simon Johnson, the CEO of the Jewish Leadership Council, released a statement saying, "UNESCO's decision makes a mockery of the institution. It is comparable to removing the association of Bethlehem from Christianity or pretending that the Old Testament never existed. It ignores years of history and archaeological proof of the Jewish connection to Jerusalem. Whilst we would like to thank the UK Government representative for voting against the motion, UNESCO has proved itself spineless, biased and politically motivated." .

The UNESCO resolution received the support of 24 countries, while 6 opposed and 26 abstained.