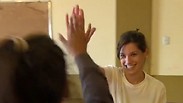 Recently released IDF soldiers combine volunteer work with world travel
Fighters for life is a non-profit organization whose volunteers who are currently backpacking around the world following their release from mandatory military service; shelter director: 'We were taught that you were little devils, but we discovered you are big angels.'
Fighters for life, which was founded by three officers from the Duvdevan Unit, has combined volunteer work with the typical post-army trip many Israelis take once being released from mandatory military service. The goal of the program is to present the world Israel's humanitarian face and takes place in many of the countries young Israelis frequently travel. In addition to the annual delegation to India, other trips to Ethiopia, South America and Central America also take place.

A current delegation to India comprising 27 Israeli backpackers called Team Daniel, in honor of Staff Sgt. Daniel Pomerantz who was killed in Operation Protective Edge, are volunteering in Dhavari neighborhood of Mumbai. The neighborhood is one of the poorest and largest slums in the world and gained notoriety after being filmed as part of the movie Slumdog Millionaire.

Fighters for life

Volunteers in Dhavari are teaching 350 children—most of them Muslims—English, arithmetic, music, art, history, science and more.

At a ceremony marking the end of another volunteer group at a local shelter, the mothers of many of the Muslim students arrived wearing burkas and face covers. The director of the shelter where the volunteers were working told the backpackers, "We were taught that you were little devils, but we discovered you are big angels."

Israel's ambassador to India, Daniel Carmon, who visited the Israeli volunteers, said, "I met a wonderful group of young Israelis who decided to combine a traditional trip to India with volunteering for the benefit of the local community. I visited the classrooms and saw the great work done by the volunteers which was enthusiastically received by the children, who didn't even want to take a break."

The president of the organization, former Air Force commander Eliezer Shkedi, said, "The actions of Fighters for life is of tremendous importance to us as Israelis, Jews and human beings."