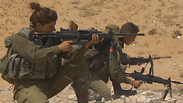 Women in the IDF
Photo: Roi Idan
According to a report published Wednesday by the organization Save the Children on International Girl's Day, Israel is ranked 17th out of 144 countries measuring the quality of life of women.

Israel ranks ahead of many Western countries such as France, Canada, Australia, Ireland and the United States. In fact, Israel is the second highest ranked non-European country on the list behind New Zealand.

The NGO that works around the world on behalf of the rights of children and women calculated the rating according to five criteria that are supposed to be key elements when calculating the possibility of upward mobility and success for women; early marriage of underage girls, pregnancies between the ages of 15-19, maternal mortality, representation of women in government and parliament, and education levels.

"The rating provides a glimpse into the situation of girls in different countries around the world and their ability to control their lives and realize their full potential," the report stated. "Although it is impossible to take into account all the diversity and range of barriers that hinder girls in their lives, we tried to identify the key issues that provide look at the most extreme violations of children's rights, which stem from discriminatory norms and economic and political barriers."

The report highlighted the problems experienced by girls in the world's strongest country, the United States, which was ranked relatively low. The country has a large number of teenage pregnancies and high maternal mortality rates relative to similar countries in terms of economic prosperity. Similarly, among rates of women represented in parliament, 19.4 percent of Congress is made up of women, while in Sweden, the proportion of women in parliament is 44 percent.

Another section of the report deals with the miserable lives of children in third world countries. According to the report, every seven seconds a girl under the age of 15 is married off. The study found that parents forced girls as young as ten to marry much older men in countries like Afghanistan, Yemen, India and Somalia.

The top rated countries to be born a woman are Scandinavian countries such as Sweden, Finland and Norway, which top the list, followed by Holland, Belgium, Denmark, Slovenia, Portugal, Switzerland and Italy. The countries at the bottom of the list are Somalia, Mali, the Central African Republic, Chad and Niger.