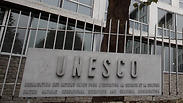 After Education Minister Naftali Bennett's (Bayit Yehudi) announcement that Israel would cease its cooperation with UNESCO, the director general of the UN's cultural body, Irina Bokova, clarified in a letter to Hatnuah Party Leader MK Tzipi Livni that the organization works "to fight intolerance and contemporary forms of anti-Semitism, including those which seek to delegitimize the State of Israel."

Bokova's letter was in response to one that Livni sent to her the eve of the UNESCO executive board's controversial adoption of a draft resolution that disregards the Jewish connection to the Temple Mount and Western Wall.

Bokova's letter, addressed to Livni in her capacity as "Former Foreign Minister of the State of Israel," begins by emphasizing that "such decisions are discussed and taken by the Member States and not by" the director general herself. She added that, as such, she transferred Livni's letter to Michael Worbs, the chairperson of the executive board.

Bokova repeated her statements from April, July and this week that "the Old City of Jerusalem is the sacred city of the three monotheistic religions—Judaism, Christianity and Islam, and that Jewish (sic), Christians and Muslims have a right to the explicit recognition of their history and relationship with the city."

The director general continued, in apparent opposition to the draft resolution as approved by her executive board, "I firmly believe that to deny or conceal any of the Jewish, Christian or Muslim traditions undermines the integrity of the site."

Bokova pointed out some of the Israeli sites inscribed on UNESCO's World Heritage list and some of the organization's projects that "attest to our commitment to Jewish culture and bear witness to our knowledge and respect for the ties between the Jewish People and the Holy Land, including Jerusalem."

She also touted UNESCO's being "the only UN agency with a dedicated programme on Holocaust education."

In Livni's letter to UNESCO on Thursday, she warned that the member states' adopting the draft resolution was likely to incite religious conflict and undermine the sensitive status quo in Jerusalem.