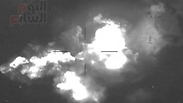 Egyptian Air Force hits ISIS targets in Sinai
The Egyptian Air Force killed 100 terrorists and injured 40 more during a three hour bombing campaign in the Sinai Peninsula in the early hours of Saturday morning according to Sky News Arabic reports.

The attacks were carried out in response to a jihadist ambush which ended up killing 20 Egyptian soldiers on Friday. The ISIS's Sinai branch took responsibility for the ambush.

Egyptian Air Force hits ISIS targets in Sinai

The Egyptian military put out a statement saying that Egyptian fighter planes were hitting known terror targets throughout the Sinai Peninsula. Weapons storehouses and vehicles used by the terror groups were hit over the course of the operation.




Sky News Arabic reported that the Egyptian Air Force hit targets in the north Sinai cities of el-Arish, Rafah, and Sheikh Zuweid. Rafah is a split city which straddles the Egypt-Gaza border.

Reports also say that 15 terrorists were killed by Egyptian forces during the ambush itself.

Egyptian President Adbel Fattah al-Sisi consoled the families of the dead soldiers on Friday and wrote on his Facebook page that "the blood of the nation of Egypt was spilled in the sands of Sinai only increases the desire and determination to complete the campaign (against the terrorists)." The ISIS ambush has been condemned by the Arab world, chief amongst them Saudi Arabia.

Speaking to Egyptian reporters, al-Sisi stressed that "the war against ISIS in Sinai will be long, but the ability to fight them has improved, and the weapons used to fight them have gotten better."

The Egyptian Ministry of the Interior further reported that the Egyptian military captured various weapons from the terrorists, including over 260 assault rifles of different makes.