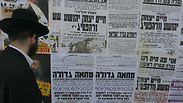 Mea Shearim (archive photo).
Photo: Gil Yohanan
Following a High Court of Justice (HCJ) decision to prohibit the use of partitions on public streets, thus not allowing a separation of male and female pedestrians on the sidewalks of Mea Shearim, Pashkevils (posters hung in public places in ultra-Orthodox Jewish neighborhoods) announcing that women must not walk on the main street of the ultra-Orthodox Jerusalem neighborhood during the intermediate days of the Sukkot holiday were hung up.
Partitions were be placed on the street in the past, but the HCJ ruled against the practice six years ago, putting an end to it. The HCJ also prohibited placing "modesty ushers" in the area.
"And a special request to the women – residents of the area as well as passersby – try to minimize as much as possible crossings of the main street of Mea Shearim in Chol Hamoed night times, and only go through side streets, and in general minimize visits in the (Mea Shearim) neighborhood in those hours," one of the posters said.
Following the pashkevil's hanging, the Hiddush organization, which advocates separation of religion from state, sent an inquiry to the Jerusalem municipality's legal council, as well as to the one of the deputies of the attorney general. "It cannot be that in the main street of a city, even in an ultra-Orthodox neighborhood, women will find themselves outcast from the public square," said Hiddush CEO Rabbi Uri Regev.
The Jerusalem municipality responded to this story, stating that the inquiry reached its offices shortly before the start of the Yom Kippur holiday, and that, "It will be taken care of by the city's enforcement and policing department, in accordance with the law."