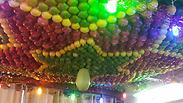 Samaritan sukkah
Photo: Asaf Kamer
While Jews around the world are celebrating Sukkot, the Samaritan community in Holon are also taking part in the harvest holiday, albeit with unique traditions different from traditional Jews.

"Our traditional harvest holiday was observed by the entire family going out to pick fruit," explained Shahar Yehoshua. "We look for the prettiest and strongest fruit we can find so we can decorate our Sukkah inside the house. This is a very complicated job. Every family has their own design and it requires a lot of patience to build."

Unlike the descendants of the tribe of Judah, the Samaritans define themselves as the descendants of the sons of Joseph, believe only in the Torah and have never left the borders of Israel. Unlike the Jewish-Talmudic interpretation of the Four Species which dictates using only an etrog, Samaritans use what is prescribed in the Torah as any citrus fruit.

Another major difference between the two is the sukkah itself. Whereas traditional Jews erect their sukkah outside the house, Samaritans construct theirs within the home.

Samaritan community elder Tzadok Yehoshua explains, "Many years ago when we would live in Arab communities and build our sukkot in our yards, they would harass us and throw dog corpses and other vermin into our Sukkot. We love our sukkot and invest a lot of time and work in their design. As such, we decided to move them into the home to protect them. Today we are protected, but the ancient custom remains."

The elegant sukkot of the Samaritans is designed in accordance with the ancient tradition of using dozens of kilograms of fruit picked by family members. Many Samaritans use red and yellow grapefruit, green apples, lemons, pomegranates and purple eggplants.

Following the end of the holiday, many Samaritans donate the fruit to families in need.