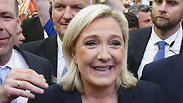 Marine Le Pen
Photo: Reuters
Marine Le Pen, the leader of the French right-wing political party National Front (FN) and candidate for president in the 2017 national elections, clarified in a radio interview with BFMTV on Friday that her plan to ban "conspicuous" religious symbols in public would include the Jewish kippah.

Speaking in a live interview with host Jean-Jacques Bourdin on his morning radio program Bourdin Direct, the MEP and Regional Councilor for Nord-Pas-de-Calais expressed her desire to expand the 2004 law on religious symbols in public schools that banned conspicuous religious symbols in French schools.

Le Pen's proposition is intended to prevent Muslim women from publicly wearing religious head coverings, but she made it clear that it would also cover the kippah in the name of equality.

The FN leader stated that she would like all conspicuous religious symbols from all public spaces to "confront the rise in power and extremely strong pressure of political Islam that uses women and the veil to advance their propositions."

Bourdin sought to clearly define what constitutes a "conspicuous" symbol, and asked if the Muslim head scarf would be included. His guest, a lawyer by profession, replied that the 2004 law and accompanying jurisprudence would merely need to be applied to the public space.

The host listed the same examples repeatedly employed in 2004 by politicians and journalists leading up to the law's passage: Muslim head scarves, Jewish kippot and large Christian crosses. Le Pen corrected Bourdin on the latter, practically pointing out, "The Catholic religion doesn't have conspicuous symbols" worn by its adherents. She continued that it was perhaps because Catholicism that "invented secularism," a cherished ideal of the French Republic.

Bourdin asked if a religious police would be established to enforce such a law, but Le Pen replied that the same national police force that requires motorists to wear seatbelts could enforce such a law, along with all other normal legislation.

A Jewish teacher in Marseille was attacked by a machete-wielding 15 year old in January. At the time, Zvi Ammar, head of the Israelite Consistory of Marseille, asked Jews to go without a kippa "until better days." An Odoxa poll published in Parish Match that month found that 70% of the French public thought that Jews should continue to wear kippot.

In that same poll, 71% of respondents believed that anti-Semitism in France was increasing.