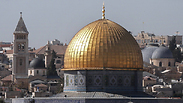 UNESCO to hold new vote on Temple Mount resolution
Discussions on controversial resolution that failed to explicitly acknowledge a Jewish connection with the holy site by referring to it only by its Islamic name will be reopened thanks to change of position by Mexico, but it is expected to pass again regardless.
The UN Educational, Scientific and Cultural Organization (UNESCO) will hold a new vote on a draft resolution that failed to acknowledge a Jewish connection to the Temple Mount because of a request by Mexico that is set to reopen discussions on it.
According to the Secretariat of Foreign Affairs of Mexico, which voted in favor of the contentious resolution, his country has taken issue with a section of the resolution which refers to Jerusalem's holy sites only by their Islamic names.
Mexico is therefore seeking to withdraw and change its previous vote just one day before the UNESCO executive board was set to close proceedings on the resolution. However, the draft resolution still has a majority and is expected to pass again as it is unlikely there will be a change in other countries' votes.
Mexico had changed their representative to UNESCO following a diplomatic debacle in which the Mexican ambassador Andres Roemer—who is also Jewish—refused to vote in favor of the resolution and was subsequently fired.
Roemer attended the funeral of Israel's ninth president Shimon Peres earlier this month, following which he promised current President Reuven Rivlin and other officials in the Israeli Foreign Ministry that he would vote against the draft resolution.
But when it came time to vote, he received instructions from his government to vote in favor of the resolution, leading him to leave the room in protest and allowing a more junior representative to vote in his stead.
His decision raised ire among the Jewish community in Mexico, with some calling him a "traitor." He was fired as a way to calm the anger in the Jewish community.
"We will not give up and fight to the end against all odds," said Israel's envoy to UNESCO, Carmel Shama-Hacohen. "I spoke to the Mexican envoy who touched my heart and informed me in our last conversation that his dismissal is inevitable, but at least we can smile because we succeeded in changing Mexico's position in the future.
"His dismissal is not good news for us, as he is a true friend of Israel, but a change in the historical voting pattern of Mexico is a moral and diplomatic achievement for Israel and a continued trend of erosion for support of the resolution."
On Sunday, UN Secretary-General Ban Ki-moon distanced himself from the resolution, coming out against the failure to reference the site using its Jewish epithet.
"The Secretary-General reaffirms the importance of the Old City of Jerusalem and its Walls for the three monotheistic religions and stresses the importance of the religious and historical link of the Jewish, Muslim and Christian peoples to the holy site," said a statement read by the UN Spokesperson on behalf of Ban.
"The Al Aqsa Mosque/Al-Haram al-Sharif, the sacred shrine of Muslims, is also the Har HaBayit—or Temple Mount—whose Western Wall is the holiest place in Judaism, a few steps away from the Saint Sepulcher church and the Mount of Olives, which is revered by Christians," Ban added.