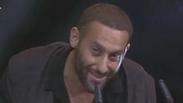 Palestinian rapper performs, is booed on stage following Regev 'terror' accusations
After coming under fire for his supposed terrorism-inciting lyrics and incurring the wrath of from Culture and Sport Minister Miri Regev (Likud), Palestinian rapper Tamer Nafar finally took the stage for the protested performance; Nafar was said to have canceled his show at the Haifa Film Festival but stated that he did no such thing; during the show, MK Hanin Zoabi, who was in the audience, was repeatedly called a terrorist; 'I won't let them silence me,' vowed Nafar before the show.
Some 2,500 people came to hear Palestinian rapper Tamer Nafar on Tuesday at the the Haifa Community Theater Festival, which is part of the annual Haifa Film Festival. The participation of Palestinian rapper Tamer Nafar in the Haifa Film Festival drummed up a storm by those who consider some of his lyrics to be anti-Israeli and even inciting violence.
Taking the stage, Nafar told the audience, "I'm going to speak in two languages, because I'm someone who knows how to build bridges. After this very tough week, I want to say thank you. Jews and Arabs have both shown support for this show."
Tamer Nafar addresses the audience, some of whom cheering, some booing him, while on stage (צילום: עידו ארז)
As he spoke, protestors in the audience booed at him and even gave him the middle finger, lifting up hands wrapped in the Israeli flag. "And to those of you yelling and trying to ruin this—I can't even bring myself to hate you," said Nafar.
Tuesday's show was preceded by a wave of protests calling to cancel Nafar's show. Those opposing his participation in the festival included the members of a Facebook group and Culture and Sport Minister Miri Regev (Likud), who wrote a letter to Haifa Mayor Yona Yahav on the matter.
Regev's statement came after the tumultuous Ophir Awards ceremony in September, during which Nafar performed a song that quotes the Palestinian poet Mahmoud Darwish that Regev, who was also present at the ceremony, considered anti-Israeli and offensive. "I have a lot of respect and tolerance of the other," Regev told the booing audience, after leaving during the performance and returning to present the prize for Best Film. "But I don't have the tiniest bit of tolerance for Darwish or anyone else who wants to destroy my people or my country."
Tamer Nafar during rehearsal (from Nafar's Facebook page) (מתוך עמוד הפייסבוק של תאמר נפאר)

"While I believe in freedom of speech and work to protect it," Regev wrote in her letter to Yahav. "These words wish to legitimize terrorism, and we as a country cannot fund it in any way. This is where we, you, must draw a clear line that separates freedom of expression from freedom of funding." She added that "It is unseemly that the Haifa Municipality would hurt public sensitivity and the values of the State of Israel."
In the midst of all the controversy surrounding Nafar, the show's organizers announced that he would "most likely cancel his show," due to the previous show—by Israeli singer Dikla—going longer.
Nafar himself, however,told Ynet that he never made such a statement, and that he was looking into what had caused the municipality to say such a thing.
"On my way back," wrote Nafar on his Facebook page. "I suddenly hear that I'm apparently canceling my show. I understand that the Haifa Municipality is under pressure from the Culture Minister and her band of racists, so that it's hoping that I'm going to cancel. But I have absolutely no intention of letting them silence me, and I look forward to seeing all of you on Tuesday."
He also rejected claims made by Regev, who said that Nafar "doesn't miss a single opportunity or stage to come out against the very idea of an Israeli state." Writing on his own Facebook page, Nafar responded by writing, "So Miri said it, so what."
Later on, the Haifa Municipality issued a statement of its own, saying that Nafar's show will go on as planned. "We regret the unnecessary rumors surrounding it and invite the public to come enjoy an event that promotes understanding and communication," the municipality's statement read.
The crowd, which also included extreme right Jewish rapper the Shadow and his followers, entered into heated and violent confrontations with those who came to see the show, not only over Nafar's participation but also due to MK Hanin Zoabi's presence. Zoabi, who is part of the Joint List, was aboard the Marmara flotilla in 2010 when it attempted to reach the Gaza shore and was stopped by the IDF. During the event, IDF soldiers were attacked by the activists aboard the vessel, in a conflict that ended with ten dead Turkish nationals.
Zoabi sat next to the protestors, who responded by calling her a terrorist and calling her to go to Jenin. Many of the protestors were eventually removed from the premise.
Prior to the show, two Likud members were questioned by the police for allegedly wishing to act against Nafar's performing and were given restraining orders preventing them from attending the show. The two were Osher Takash—MK Nava Boker's parliamentary aide—and the head of Likud office for Haifa University, Daniel Sigalov. Both had in recent days actively campaigned to prevent Nafar from taking the stage.
Takash claimed that he was working within his rights to protest the performance, despite his Facebook page calling protestors to disrupt the event. He said that the restraining order against him essentially acts "as a way to silence" him.