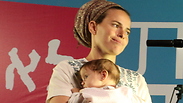 Thousands of women demonstrated for peace outside the Prime Minister's Residence in Jerusalem on Wednesday evening at an event entitled the "March of Hope."

The women called on both the Israeli and Palestinian leaderships to take steps to reach a diplomatic agreement.

Hadassah Froman, the widow of Rabbi Menachem Froman, and her daughter-in-law Michal Froman, who was wounded in a stabbing attack in 2015, attended the rally.

"There is a lot of energy which will lead us on a new path—maybe even to change. I hope that it will be possible to see the connections and to see what can be done to create a solution," Froman said.

Michal attended the rally with her baby daughter. "I believe that the peace we want will happen, and that it will come after we see what is possible and what is definitely not possible. Even the right-wing will work with us towards peace," she said.

"Life will be possible for us here only if we stop being victims of terror, of the occupation. We all need to rise up and begin to work very hard for the sake of our lives here," she continued

She went on to say that "death only goes in one direction. To choose life is to choose to understand how complicated life is here, and while it is of utmost importance to defend life, it is also important to fully understand the hardships, and to find a way to lend a helping hand. Life here, in this land, will be possible only if we stop blaming each other, only if we stop being victims."

The women have marched in different places throughout Israel with people from every sector of Israeli society.

They held a multi-faith prayer service at Qasr al-Yahud on the Israel-Jordan border in which 1,000 Palestinian women participated, along with hundreds of Jordanian women on the other side of the border.

Head of the Peace Authorities in the Middle East Huda abu al-Arkub from Hebron called for a political agreement between the two sides. At the Jerusalem rally, she said "you have a partner. I'm standing here with Women Wage Peace to say loudly and strongly on behalf of the women of the region: enough! No more war, no more bloodshed, and no more discrimination. No more separation barriers between us!"

"The time has come for mutual recognition of our rights to live as free people in the Holy Land. The time has come for our hope to bring us closer to a safer future, so that the next generation of Jews and Palestinians will be able to use their full potential as free people," she continued. "I am here today to tell you that there is indeed a partner for peace. So let us be done with this myth."

Participants included, among others, Nobel laureate Leymah Gbowee who helped work for an end to the civil war in her native Liberia, head of the Eshkol Regional Council Gadi Yarkoni and former mayor of the Israeli-Arab city of Sakhnin Mazen Ghanim.

The world's largest Sukkah was erected at the end of the rally, wrapped in a quilt with thousands of patches expressing hope for a better future.