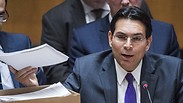 US again expresses support for Israeli far-left NGOs
The United States again expressed its support of Israeli far-left NGOs B'tselem and Peace Now at a special UN Security Council meeting called on behalf of the Palestinians; Ambassador Dannon calls on the UN to stop 'interfering with Israeli democracy.'
The US expressed its support for Israeli far-left wing organization B'tselem once again during a special session at the UN Security Council on Wednesday as the council discussed the situation in the Middle East.

Deputy US Ambassador to the UN David Pressman said that he thanks the NGOs which "shared their expertise in changes to zoning laws in Israel and the West Bank." He called on all governments to "promote an atmosphere whereby all voices can be heard."

Israeli Ambassador Danny Dannon speaking at the UN

Israeli Ambassador to the UN Danny Dannon ealier called on the UN to stop funding the organization.

In 2016 three UN agencies provided funding for B'tselem. This is no coincidence. It is part of a cynical cycle in which the UN funds B'tselem and similar organizations who have a particular political agenda. They are then invited to provide so-called expert testimony. This is a direct interference in our democratic process by anti-Israel elements here at the UN."

This isn't the first time that the US has expressed its support of B'tselem. In an interview with Yedioth Ahronoth Vasquez said that the US is "grateful" to NGOs such as B'tselem and the Peace Now organization—another left-leaning organization which aims to raise international public awareness about the construction of Israeli settlements—which was also invited to the session.

"I won't respond to everything that was said," said Vasquez when asked to clarify the state's position on the matter. "In general, we believe that a free civil society free of inhibitions is a central component of democracy."

The UN Security Council held a special session at the behest of the Palestinians on the subject of the Israeli settlements. Israeli left-wing NGO B'tselem was invited by the Security Council to speak at the council condemning Israel over settlement activities.

UN Special Coordinator for the Middle East Peace Process Nickolay Mladenov opened up the session by discussing the latest terror attacks in Israel.

"If the Palestinians want to establish a state and put an end to the occupation, they must understand that it won't be done through violence, only through negotiations," he said.

Mladenov also touched on the subject of Amona saying "Israel is continuing to plan settlements, including giving advanced approval for housing units deep inside the Occupied West Bank. These housing units will separate the northern and southern West Bank, and provide a barrier for the establishment of a future Palestinian state."