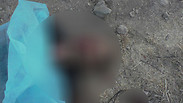 The Palestinian killed by IDF fire
After throwing rocks at an IDF patrol vehicle, a Palestinian was killed by IDF fire on Thursday, north of Hebron. The rock throwers continued pummeling the soldiers even after the soldiers stopped and left their vehicle and yelled at the Palestinians to stop.
The event took place south of Gush Etzion Junction at a spot known for such altercations. As a result of the current rock throwing, one soldier was lightly injured, though he did not need to be evacuated for treatment.
Upon leaving their vehicle, the soldiers commenced with the rules of engagement toward the rock throwers, and after shooting a warning shot in the air, they opened fire on their attackers, killing one of them.
The IDF issued a statement, saying that the incident is under investigation.