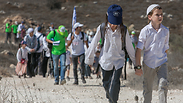 Walking up to Amona during Sukkot
Photo: Ohad Zwigenberg
Protestors in Amona: They'll need to drag us from our homes
Thousands take part in a protest rally against the evacuation of the West Bank outpost of Amona, due to take place in two months; Deputy Defense Minister Eli Ben-Dahan, among the Knesset members to take part in the rally, promises to fight the court decision, saying, 'There won't be a government without a resolution.'
Thousands of people attended a protest in the outpost of Amona on Thursday, calling on Prime Minister Benjamin Netanyahu to resist the High Court's decision to evacuate the settlement in two month's time; the protest was attended by MKs from the Likud and Bayit Yehudi. A similar protest will also take place in the outpost of Ofra.
"We're going to fight for our home here, and they're going to have to drag us from our homes," said Avihai boaron, headquarters chairperson of the Fight for Amona. "If we find ourselves dealing with an evacuation, it won't go over quietly."
The protest rally took place as politicians from the right attempt to have the High Court postpone the evacuation http://www.ynetnews.com/articles/0,7340,L-4866096,00.html . The illegal settlements are also seeking protection under the idea of "absentee property"—which would grant the State of Israel ownership over the property of those who fled Israel to enemy countries during the War of Independence—and the Resolution Bill—which aims to prevent the transfer of settlements to new locations. Both points are not considered legally sound.
"We are calling for a vote on the Resolution Bill," said Boaron. "It's the only thing that can save Amona and the settlement project at large. We are in a right-wing government, and it is up to ministers Shaked, Bennett, Lieberman and of course Prime Minister Netanyahu to bring about a solution for the settlements in Judea and Samaria."
MK Bezalel Smotrich (Bayit Yehudi), who also took part in the rally, said, "We told the prime minister that if there won't be a solution based on 'absentee property' by the next Knesset session, we will go for the Resolution Bill with full force. The current discussion should be over where to build a new settlement, it's been 12 years since we built the last one. Our gift to Obama is new settlements, and that's what we need to prepare for whoever enters the White House."
Samaria Regional Council Head Yossi Dagan voiced his own opposition to the political motivations he feels are driving the evacuation. "Anywhere else in the world, you are compensated after proving ownership. But here, settlers are at the bottom of the food chain. Does it make sense to uproot a blossoming settlement of 20 years? We won't let that happen. So we're here to tell all the hypocrites and attorney generals: make no mistake about it. And to you, Mr. Prime Minister, I say: you need to decide whether you're with the nut jobs from the extreme left or with those on the sane side. The days of the pansy settler are over."
Minister of Agriculture and Rural Development Uri Ariel (Bayit Yehudi) also spoke at the rally. Referencing the recent UNESCO decision that overlooked the Jewish people's connection to Temple mount http://www.ynetnews.com/articles/0,7340,L-4866113,00.html , he said, "To whatever nations try to claim there is no connection between Temple Mount: those who were with me during the Priestly Blessing understand that connection." He also spoke to Netanyahu directly, saying, "Mr. Prime Minister, you hold the key to Amona in your hand. We ask and demand that you use that key and continue the settlement's momentum."
Addressing the crowd, Deputy Defense Minister Eli Ben-Dahan (Bayit Yehudi) said, "We were here on the eve of Yom Kippur when we told the residents of Amona that we are committed to solve the issue of the Jewish settlement in Judea and Samaria, with Amona included. We won't give up, and if that doesn't happen, we will present the Resolution Bill ourselves at the beginning of the next Knesset session. There won't be a government without a resolution."
The Likud issued a statement in response to the rally. "Prime Minister Netanyahu is calmly and responsibly leading a concerted effort to find a solution to the problem of Amona and its derivatives together with the minister of defense, minister of justice and attorney general. It is unfortunate that some people cannot handle the pressure, so that instead of joining forces as part of a real effort would rather charge ahead with a baseless and irresponsible political battering ram that only hurts Amona and the settlement project in general."