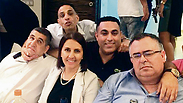 An attempt at reconciliation
Deputy Minister Mazuz threatens Likud member with knife
An argument that breaks out between Yaron Mazuz and Roy Sharabi, Likud's representative at Israel's labor federation, during a Sukkot event nearly ends in a stabbing after the deputy minister pursues the other man with a knife in hand. Despite the many witnesses at the event attended by 350, Mazuz denies the incident, and Sharbai declines to comment.
An argument that broke out between Deputy Minister Yaron Mazuz and another Likud member during a Sukkot event last week nearly ended in a stabbing.

Wednesday, Mazuz attended a Likud event hosted by prominent party activist Sefi Sasson at his sukkah in Rishon LeZion. Sitting at the same table was a former close associate of Mazuz, the head of the Likud faction at the Histadrut (Israel's labor federation), Roy Sharabi.

Mazuz and Sharabi had recently fallen out over power struggles within the Likud faction in the Histadrut.

During the event, an argument broke out between the two, with witnesses saying that Sharabi demanded that Mazuz left the event, claiming the deputy minister had not been invited. Mazuz refused, and Sharabi decided to leave the sukkah in protest. The deputy minister decided to pursue the Likud member, grabbing a knife he saw on one of the tables on his way out of the sukkah.

"Roy Sharabi went outside and was very upset. We immediately realized he had an incident with Yaron Mazuz," said one of the guests at the event.

A violent confrontation broke out between Mazuz and Sharabi, with other guests having to separate the two.

"It could've ended differently," one of the guests told Ynet's print publication Yedioth Ahronoth. "Had they not been separated, this would not have ended well. It had the potential of developing into something serious. These are two hot-headed people with a very short fuse."

Another guest described Mazuz as "a hot-headed man who seemed to have forgotten that he is a deputy minister in the Israeli government."

Some 350 guests were at that event, including Knesset Speaker Yuli Edelstein, ministers Gilad Erdan, Yisrael Katz and Gila Gamliel, coalition chairman David Bitan, other Likud deputy ministers and MKs, and well-known Israeli singer Eyal Golan.

Despite the fact the incident happened outside the host's home, it became the talk of the evening, leading several senior Likud members to try to calm tensions by having the warring sides reconcile. After Mazuz and Sharabi calmed down, they joined others around a table laden with drinks for a photo op with Bitan and Gamliel.

But the attempted reconciliation did not stop the "knife incident" from becoming the talk of the day in Likud circles, with word of it spreading quickly through social media.

When asked about the incident, Mazuz said, "That never happened." Sharbai, meanwhile, declined to comment.