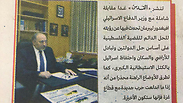 Avigdor Liebeman with Palestinian newspaper in his office
Palestinians furious at Lieberman interview in leading Arab paper
The popular Palestinian newspaper al-Quds interviewed Israeli Defense Minister Lieberman for a story to be published on Monday; Palestinians: 'It's an embarrassment that we are hosting the murderer and war minister of the occupation.'
Defense Minister Avigdor Lieberman has given a rare interview to al-Quds, the largest Palestinian newspaper in the West Bank, raising the ire of the Palestinians.

The interview is due to be published on Monday, with the newspaper teasing the article on Sunday with a photo of Lieberman in his office with a copy of the Arabic-language newspaper on his desk.

The interview has drawn anger from Palestinians on social media, especially amongst those who identify with the Hamas and the Popular Front for the Liberation of Palestine (PFLP) terror groups.

They have been sending messages to the newspaper on Twitter using the hashtag "media of normalization" (I'alm al-tatbi'ah).

"The conflict with the enemy isn't only about power, it is also ideological, cultural, and natural. Therefore, any type of normalization with Israel must be forbidden," one commenter wrote.

Another added that "it's an embarrassment that we are hosting the murderer and war minister of the occupation in our media. No to normalization."

Lieberman reportedly said in the interview that if a new conflict between Israel and Hamas were to begin, "it will be the last."

The defense minister is also said to have laid out how a two-state solution could be achieved with the Palestinians, which would see land and population swaps, and would see Israel keeping the large settlement blocs.

Coordinator of Government Activities in the Territories (COGAT), Maj. Gen. Yoav Mordechai reportedly worked behind the scenes to get the interview to happen.