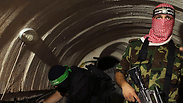 Hamas militant dies in tunnel collapse
Photo: Reuters
A member of the Hamas military wing was killed in a tunnel collapse east of Rafah in Gaza on Monday. Another Hamas terrorist was killed on Sunday due to a tunnel collapse close to the border with Israel.

Hamas has released little information regarding the collapses.

The tunnel collapse came just hours after Israeli residents of Gaza border communities woke up to Red Alert sirens from a rocket fired from Gaza. The IDF then retaliated with airstrikes on Gaza.


The IDF explained that it views Hamas as responsible for all projectiles emanating from the Gaza Strip.

Hamas also tested a long-range missile on Sunday, shooting the rocket into the sea.

Meanwhile, Defense Minister Avigdor Lieberman told a Palestinian newspaper in an interview published Monday that, while Israel has no desire to return to Gaza or conquer it, "if they force a new war on us—it will be Hamas's last because we will completely destroy them."

"There are extremely radical elements in the Gaza Strip who have the destruction of Israel at the top of their priorities," Lieberman noted. "But I want to be clear: if they make the decision to stop digging tunnels, smuggling arms and firing rockets at us, we will be the first investors in the rehabilitation of the Gaza Strip. We will be the first to invest in a maritime trading port, an airport and an industrial zone. Gaza could one day be the new Hong Kong or Singapore. Hamas invests more than NIS 100 million in military infrastructure instead of in health and education."