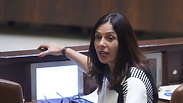 Minister Regev. "I encourage Habima for its strong stance"
Photo: Gil Yohanan
A production of the Habima Theatre will, for the first time, be shown in Kiryat Arba, outside of Hebron. In mid-November, the play A Simple Story ("Sipur Pashut" in Hebrew) starring actors Yevgenia Dudina, Shefi Marziano, and Hila Shalev will be performed in the West Bank settlement, and protests on social media by parties opposed to the perceived endorsement of settlement activity have already begun.

Based on a story by Shmuel Yosef Agnon, A Simple Story was adapted for the stage by Shahar Pinkas and directed by Shir Goldberg. One of the posts protesting its showing in Kiryat Arba, which received hundreds of "likes" and dozens of "shares" on social media site Facebook, read, "There are few places more loathsome than that in our area. I suggest that the actors and crewmembers arrive a bit beforehand and tour Meir Kahane Park, which also includes the grave of Baruch Goldstein."

The Habima ("The Stage" in Hebrew) Theatre management responded by saying, "The theater's management rejects in disgust any call to exclude citizens and exclude towns, and condemns any attempt to culturally boycott any place where Israeli citizens live. The Habima Theatre is the national theater of the state of Israel."

The Kiryat Arba community center responded by saying, "We appreciate the Habima Theatre for its joining many artists and institutes who are taking part in a Zionist, valued culture that is in contact with the entirety of Israeli society. Kiryat Arba commends the management of the Habima Theatre, as well as all other artists who have and will arrive here, out of the understanding that good and proper culture is consumed by all of the people, not just a certain, small group. Kiryat Arba Hebron is the cradle of existence and culture of the people of Israel."

Minister of Culture and Sport Miri Regev responded to the controversy by stating, "The decision to perform for the first time in Hebron exemplifies the national theater's being a central pioneer in treating all citizens of the state as equal in their right to experience culture. I encourage Habima for its strong stance against the wave of criticism from the left, and am sorry to see elements in our land act as the lowliest of BDS bullies. Since entering my office, I have led a policy of cultural justice as part of which culture in Israel will be made available to every citizen as a basic right, and I'm happy to see (this) vision made real."