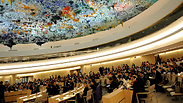 The United Nations Human Rights Council
Photo: AFP
The candidacies of Saudi Arabia and Russia for the UN's top human rights body are compromised by their actions in Yemen and Syria respectively, where they have been accused of unlawful attacks on civilians, a prominent rights group said Tuesday.

Human Rights Watch said the two countries' membership bids risked undermining the credibility of the UN Human Rights Council and its ability to hold rights abusers accountable.

"The UN Human Rights Council's ability to successfully expose and hold violators to account is under threat because a number of countries use it to thwart attempts to expose their own crimes and abuses," said Louis Charbonneau, UN director at Human Rights Watch.

Human Rights Watch and Amnesty International had earlier called for suspending Saudi Arabia from the Human Rights Council over illegal attacks on civilians in Yemen where more than 11,000 civilians have been killed or wounded since March 2015.

In Syria, Russia has been accused of carrying out airstrikes that have indiscriminately killed and wounded countless civilians.

The group also flagged the candidacies of China and Egypt for their poor human rights records.

The General Assembly will hold elections for the 47-nation council on Oct. 28.