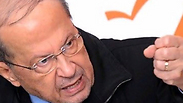 Aoun. Never concealed his ambition to become president
Photo: YouTube
No matter how we look at it, General Michel Aoun is bad news. The 128 members of Beirut's parliament will convene next Monday to elect Lebanon's next president. If he is declared the winner, the 81-year-old devious general will be the country's 17th president. But despite the deals which have already been loudly announced in the media, it is unclear whether Aoun will obtain a two-third majority, as required by the constitution.

 

Lebanon has not had a president for two and a half years now. The last one, Michel Suleiman, packed his belongings and went home without thinking twice on the day his term came to its conclusion. Since then, the parliament has convened 37 times but has failed to reach an agreement on who will be the next president. The two large blocs—of Hezbollah and of the Future movement led by Saad Hariri—tossed names in the air, scattered bribes and made threats, but failed to gather a sweeping majority.

Aoun never concealed his ambition to become president. Throughout the 1990s, he had an ongoing flirtation with (very) senior members in Israel's security community, with two messengers who arrived especially to meet him. His insistent claim, that a Lebanon led by him would be friendly towards Israel, failed to convince. The intelligence paperwork gave the "general" the code name "the elastic," pointing to his changing loyalties: once to Saddam Hussein, once to the Syrian president, while maintaining a tight relationship with Hezbollah throughout.

At some point, when he decided to team up with the moderate camp in Lebanon, Aoun grabbed microphones and demanded a thorough treatment against the Syrian Army that invaded Lebanon. But when the Syrian regiments deployed in Beirut, he fled to the French Embassy compound. Ten months later, he managed to arrange himself an escape deal. For 10 years, he indulged himself in Paris, and when the last Syrian soldier was banished from Lebanon, he returned and announced that there was no change in his plans. One of these days, he swore, he will enter the marble Baabda Palace.

With a million and a half refugees from Syria, Hezbollah fighters patrolling the airport, Revolutionary Guards "guides" and "advisors" of Western and Arab intelligence agencies, Lebanon has lost its sovereignty. And the eyes are following the huge arsenal of missiles and arms shipments that keep arriving from Tehran.

The past year has been bad for former Lebanese prime minister Saad Hariri. His patrons in Saudi Arabia canceled their economic sponsorship and forbade Riyadh's rich residents to vacation in the luxury hotels and nightclubs in Jounieh's promenade. Hariri, whose billionaire father, former Prime Minister Rafik Hariri, was assassinated last decade by Syrian messengers and Hezbollah agents, vowed that Aoun would never set foot in the presidential residence. But in Lebanese politics, reality is stronger. Last Thursday, Hariri surprisingly announced his endorsement of the "general."

Sound complicated? On Friday night, Hezbollah Chairman Hassan Nasrallah got Hariri in further trouble when he declared that he would not oppose his appointment as prime minister. The announcement was aimed at exposing the depth of the deal: give me Aoun as president, and I will give you the desired position even if you didn't ask for it.

Like in Israel, the Lebanese president's official authorities are strictly ceremonial. But if Aoun—a former army commander and a well-connected political figure—is elected, he is the one who (like Recep Tayyip Erdoğan in Turkey) will select the prime minister and ministers and dictate the foreign affairs. As far as Israel is concerned, it will mean quite the headache: Iran will expand its foothold in Lebanon, no one will bother to demand that Hezbollah disarm and hand its weapons over to the state, and the the Saudis will be furious, as Israel's alert level concerning Lebanon will move one step up.