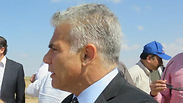 MK Lapid's diplomatic tour.
Yesh Atid party leader MK Yair Lapid toured the Gaza border area on Tuesday, accompanied by a delegation of several foreign ambassadors, as well as members of the Knesset Foreign Affairs and Defense Committee.

Commenting on a recent interview Minister of Defense Avigdor Lieberman gave Palestinian newspaper al-Quds, in which Lieberman stated that If Hamas stops arming itself Israel would assist in rehabilitating the Gaza Strip, Lapid said he expresses support for such an idea back when he was a member of the Security Cabinet.

Lapid said he spoke of the matter shortly after the conclusion of Operation Protective Edge in summer 2014. In fact, he spoke of it even sooner: Lapid gave an interview to Ynet in which he mentioned disarmament in connection to rehabilitation of the strip on August 18, 2014, while Protective Edge was winding down.

Among those participating in MK Lapid's tour were the ambassadors of the European Union (EU), Japan, Australia, Austria, Denmark, Hungary, Croatia, Slovenia, and Myanmar, as well as deputy ambassadors from Spain, Sweden, Vietnam, and the United States.